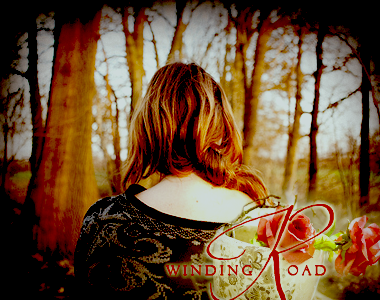 winding road
She stands and watches the waves break.
It is autumn and the world is a flurry of leaves and wetness and gray skies. Gone are the eternal star scattered nights of the summer where the air burned with dreams. She is left with the embers of happier days and she watches as they slowly burn into silence.
The waves break and lap, form and fall, push and pull, trapped in their own dance. And she watches, marveling.
Behind her, her family and cousins are dispersed throughout the lakefront laugh and talk and live. She overhears bits and pieces of their conversations.
There is something tragic about autumn, she thinks. But she can't quite place it. In autumn, the world is quieter. It prepares itself to slip into the dark and coldness of winter. Perhaps that's it, she decides. After autumn, there's nothing to wait for but winter.
The cool air whispers back all her insecurities, all her fears. The air is laced with the comfortable sting of yesterday and childhood. Cotton and air mixing, fields ripping, umbrellas held against the sky. She breathes slowly, feeling every alcove of her past greeting her. Worn books, piano keys, saccharine, two Knut candies...she is home.
Above her and her laughing cousins, the thunder breaks, spasming, cracking, and the leaves follow in response, falling off their branches and weaving through the cloud tops.
Thunder. Wind. Leaves rustling. The faint murmurs of her family.
Then, footsteps.
"Molly?"
She smiles before turning, even though she does not recognize the voice. "Yes?"
"You're home? When did you get back?"
"Teddy?"
Teddy's eyebrows rise. He always was a little sensitive - a little on edge, as if he was perpetually waiting for someone to offend him. "Were you expecting someone else?"
He looks older, she notices. Not taller or bigger. Older in unexpected ways: more tired, with a deeper voice. Gone are the old, ugly jumpers he used to wear. Instead, he's wearing a collared shirt and trousers, looking very much his age and very unlike himself.
"No, no," she adds hastily. "It's not that. I got back three days ago."
"Oh."
Silence descends upon them, painted in by time and distance and a hundred other little things she cannot be bothered to remember. A strand of hair falls into her eyes.
"How've you been, Teddy?"
"All right, I suppose. Finally got a job and a flat a few months back, so at least my grandmum doesn't have to worry about me anymore." He runs a hand through his cleanly cut hair and Molly's eyes waver, falling instead to the scene behind him. Dominique sits reading quietly, unaware of the wind hassling her, and Lucy stands in the distance, splashing water onto Louis's face and Molly marvels at how much things have changed, at how much their lives have moved on without her.
"And you? How'd your music career work out?"
"I'm back, aren't I? What does that tell you?" She didn't think it would sound so bitter. She's rehearsed the same lines in front of her mirror at him, knowing that her relatives and her schoolfriends would pounce upon her with the same question. She'd practiced until she was sure she sounded indifferent about being back.
Apparently not.
"S – sorry."
"No, it's okay. How's everyone else? How're you and Victoire?"
He grimaces.
"What?" Molly laughs. "Oh come on! I thought you two were all for getting married. Right before I left – remember what you said – and what Lily – "
"Merlin, Molly!" Teddy reddens considerably, his features wilting downwards. He checks behind his shoulder, inspecting the general vicinity. "We agreed not to discuss that again!"
"You honestly expected me to listen to you?!"
She smiles and time turns back three years. It is as if they have accidentally forgotten that he grew up and became Quiet and Mature and an Adult, and got the flat and the Ministry job and the girlfriend that his grandmum had always wanted for him. It is as if they have forgotten that she ran off to pursue her dreams and came back defeated.
They've slipped into conversation, like boats swaying and children playing. So many things have changed, and yet, she still stands before Teddy Lupin, laughing as she did when she was five or fifteen. She adopts a deep voice. "Oh Molly - I think I
love
– "
He looks so scandalized that she laughs. "Molly, please."
"Okay, okay, I'll stop." She's still wearing an enormous grin. She doesn't feel as though she's smiled so much in a while.
"Thank God."
She takes a moment to look at Teddy briefly; she knows that he is went off and grew up in her time away, but he doesn't seem so different. He'd had a bit of a wild phase in Hogwarts - the pranking, the girlfriends, the detentions - but all the boys in her family had it too. After seventeen, he'd calmed down a little - become kinder and quieter. She thought about their Hogwarts antics briefly for a moment: the pranks, the silent nights at the library, his overwhelming need to show off in front of Victoire...they had had two polar personalities. He had been Ted Lupin, the star, the prankster, the godson of the Boy Who Lived, Quidditch extraordinaire, boyfriend of the most beautiful girl in school. And she had been Molly Weasley, bookish, the first of the Weasleys to be tossed into Hufflepuff, with average marks, painfully shy and perpetually living her life as if she'd wandered into it by accident.
Those seven years had come and gone. They had emerged out of them as merely Teddy and Molly. Amidst the patronizing, the arguments, the Christmases and summer breaks, they had accidentally become closer than they had ever intended to be.
A new wind breaks and washes over them, showering leaves and dust and old memories into their face. And Molly smiles, watching the leaves reach their crescendo, twirl and swirl.
"I'll be going, then. Take care, Molly."
"I will."
"Be nice to your parents. And your sister. They've missed you."
She suppresses a frown. "I know."
As he turns to leave, she feels a small part of her lifting, walking with him.
"You've grown up, Teddy." She says it quietly, but he hears. And suddenly, she feels those three years in which she'd left rush between them. A small sadness seems to seep through her lips, through her words, to him, to the air between them and the leaves and trees around. Yesterday, she was Molly and he was Teddy and they were children. Today, she stands in front of him like a stranger, echoing words so many forgotten relatives have given to her. A vast whiteness seems to stand between them, rolling and rolling.
She had left everybody behind and run off.
But slowly, he gives a reluctant smile.
Because he is not a stranger.
He is Teddy Lupin, after all.
Her best friend.
He pauses before he continues. "Thanks." He rounds the corner and disappears among the thicket of trees bordering the lakeside.
The voices of her sister and mother float down to her.
"
Lucy Weasley!"
"I was kidding! Honestly, ask Lou – "
"Like I'm going to help you!"
Teddy Lupin had grown up. Molly took a deep breath.
Now it was her turn to.
---
Author's Note (08/10/13): The lovely chapter image above is by the_terminator at The Dark Arts. This story is dedicated to Rachel (PenguinsWillReignSupreme) for supporting this ship so ardently and for encouraging me ever since one of my very first one-shots. I also owe my thanks to Elysium for making the first banner for this story which inspired it in the first place.
This story is undergoing some rewrites, mostly because I really feel it doesn't reflect much on me as an author. The rewrites aren't major (some lines have been added to help with characterization) and some lines have been pulled if I found them a little overwrought or too flowery
.
If you're an original reader returning for a reread, I do hope you find these changes to enhance the story rather than detract. I've tried my best to refrain from deleting lines.
Thanks so very much for reading and I'd love to know your thoughts.
Celeste
Track This Story: Feed
JOIN HARRY POTTER FANFICTION
---
Get access to every new feature the moment it comes out.
Register Today!