---
Rating

Mature

Chapters

10

Reviews

188
Mysteries and Misery at The Ministry
Discalimer:
Everything you recognise belong to JKR. The rest is all mine.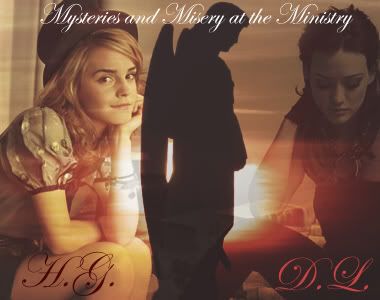 Her beauty is simply breathtaking. Enthralling. Absolute. Her blue, silk gown clings to her subtle curves and the moonlight bathes her in an unreal glow… Her hair falls gracefully about her slender neck, embracing her dainty shoulders and reaching the middle of her back. Her dark eyes hold the shade of a starlit night, her long lashes move sensually and slowly… Her full lips invite you to sin in her heavenly grace, her skin is soft as a baby's touch…
She steps closer, and the sound of her high heels breaks his reminiscent resistance, while her fragrance fills his senses; he is bewitched. The woman holds a delicate hand out to him, and the thirty-five year-old man takes it with no more doubts, kissing it slowly, lovingly. She lets her head rest on his shoulder, and her sweet breath tickles the sensitive skin of his neck pleasantly.
Their movements are slow; they have all night. He cups her chin in his hands, with a tenderness he didn't know he was capable of, but she brings out the best of him. Oh, he knows her so little…
He looks, hypnotized, into her beautiful eyes, and she sees that his are darkened with desire. He loses control… He forgets about his wife and his mother, and loses himself in her addictive embrace. He cups her chin with his hands, and passionately presses his lips to hers, sucking the taste of her lipstick, hungry for her, thirsty for what she can give. The woman surrenders easily; she arches her back, lets his tongue swirl against hers, and her breasts press against his chest in a tango rhythm. Her movements send electric shivers down his spine, he searches every piece of her skin madly, though his mouth cannot leave her sweet lips. His hand takes one of her slender legs from under the knee and sets it on his hip, while his fingers are attacking her creamy white skin. Her back is hitting the wall, and she seems to shudder. There's no more tenderness, just a raw desire that is consuming him. He moans uncontrollably now and, when her fingers start unbuttoning his shirt, he cannot resist and bites her neck. Hard. She doesn't scream, just lets him do whatever he wants.
He takes off his shirt, throws it on the ground, and his lips kiss her cleavage, taking in her perfume, making his head spin, his blood hot, losing all control. He doesn't see that her eyes are cold…
He grabs her in his arms and wants to rip her clothes off, wants to feel her with all that she is. Her lips are swollen, her body frozen. He wants so much more, so much…
It's just one bullet, but it hits him right in the chest. He lets go of her instantly and falls to his knees, looking at her with his features paling to a ghostly shade of white, while he stares at her in shock. The woman stands on her feet and watches him like a deathly spirit, frozen, murdered, herself, by what she has done. The cold wind blows on her face and makes her look like a spirit of destiny.
She cannot fall like the man in front of her, although her greatest wish at the moment would be to do just that. She cannot cry, because she has no more tears. She is as dead inside as the man in front of her, and her blue dress moves in the wind, though her body feels like a stone. She mutters "
Evanesco
", and then disappears into the night…
***
With a swift move, I light my cigar. The small fire sparkles a little, rises a bit, then all seems to fall again into shadows. The smoke burns my lungs, but somehow releases my brain… Strange music flows from the violin of my muggle neighbor... Oh, that Marc Streitenfeld piece again... It's all in those notes: the grief, the guilt, the passion, the soulless body of mine burning in the smoke of my cigar – such a morbid image...
The pistol sits right next to my chair, the galleons lie on the floor, and my black scarf covers the marks of a too passionate lover…
You may remember my name…
I hear the smooth echo of a newcomer that strolls down the hall... I am sitting in the dark of my room, but the sober moonlight comes to confront the shadows in my head. I still feel, on my skin, the burns of my frozen bed. The chair I am sitting in is old enough to tell its own story, but tonight we're talking about mine…
My eyes are black as coal…
It's a cold night, close to two o'clock. I can't sleep again, and this packet of cigars seems to have no end; the smoke covers me in a black aura that I know so well. Past the grey curtains of my bedroom, you can see that this is dark, muggle neighborhood, where I hide… Downtown is my luxury condo, but damn it if I turn to that place tonight…
My head aches like hell, but in my mind all things are clearer than I have ever wanted them to be; the darkness of the room shows the things exactly as they have been, although… it's all just my madness.
I rise from the chair and go to the window;it shows a starless sky. Meet Hermione Granger, the outcast of the wizarding world. Merlin, I can-not live without these cigars…
You sure wouldn't expect the brightest witch of her age to be hanging around a dark street, when they all saw her shining one day… Somehow I shine… but in the darkness of the night, pretending that I exist, somehow…
You don't understand, do you? I don't blame you… Sometimes, quite often these times, even I can't understand myself. Because I'm surrounded only by shadows, questions, mirrors and political leaders...
"So how did it all start?" I ask myself, as I freeze and turn away from the mirror.
Ever heard of the Department of Mysteries?
Yeah, I thought so…
Ever wondered what the Unspeakables do?
Big mistake…
You think that brains in shells are scary enough? You think that screaming monsters are scary enough?
You don't have the slightest idea what this department does.
One thing is for sure: once you get in, you can never get out. And I'm trapped…
Let me tell you something about this messed up territory, known by little men as the biggest secret from the misery of the Ministry: this department is where they wash their dirty clothes, without anyone's knowledge, this is where all the doomed things are hidden, it is where the murderers and the guilty are trapped. Right next to my bed, right in my head, in this poisoned atmosphere where I breathe, trying not to be sick. Ever wondered how it is to fall into yourself? The pain, the constant frustration that consumes your beating heart, as if your very soul is being sucked out by the ruthless Dementor.
Oh, no, you don't know, you don't carry the weight of the world on your shoulders, and you don't wear a red Chanel dress ... You don't live two lives without really having one. You don't sin in the wizarding world and breathe in the muggle one. Two houses, two names, two worlds…
Let me take you back to the beginning...
As an initiate, an apprentice, every single day you struggle to breathe, to forget, until you go mad, fall down to your knees; the air is like ice particles, they put you in shackles, although your arms and feet are free. But the entrance is always there, waiting to drown you , until you forget to be you, and you're what they want you to be...
The Feldons: the sick name of a curse… or the "owners" of this department. Some say they have more influence than the Minister of Magic herself. They control the magical world… I wouldn't say no… I wouldn't say anything at all, in fact, after having been tortured and cursed until there were no more tears to shed or blood to spill.
So how did I, Hermione Granger, the bookworm, the know
-
it-all, get into an unknown, cheap hotel in London, glad of the offered silence, trapped in this misery? How come my only "friend" is a muggle doctor, charged several times for malpractice, sitting right across the hall?
Come to meet my world, but beware… it might suck you in…
The Feldons choose their members well. The potential Unspeakables are supervised from their first year at Hogwarts; the brightest, the most talented, and the most skilled students are constantly being watched; the Feldons must have thousands of archives on these students, in their dusty shelves … These extraordinary students are left to be their best for seven years, and then… then it begins.
I was nineteen, that November, when they called . The war was over, and we were all dead or haunted by the spirits of our dear ones… We all paid the price, every single one of us. Every soul was broken or dead, and more and more people were losing their sanity. It started with poor Tonks, whose son and husband were dead, and it finished with Neville, who lost everything he had ever loved and priced. Because they were all dead:Harry, who was almost like my brother, my sweet Ron, and my dear Ginny. The Weasley twins, Percy, Bill and Arthur Weasley. Fleur only stayed strong for her daughter, little beautiful Victoire… what a cruel name. Even Viktor died, shortly after ending the life of Bellatrix.
I felt so guilty, and was drowning in my misery. The Death Eaters killed my parents; Ron didn't manage to save them. It was all about sacrifice then: Harry died to save wizarding world, Ginny died trying to do for him what Lily had done. Bill fell to the ground while defending his father, and his father lost his life saving Luna… And Percy died… died to rescue me from Lucius' hands… This was to become my burden. Living while knowing that I had nothing left, and that someone had died to save me…
I wanted to die right there, no … to find revenge, or… I don't know… I don't know how I survived through smoke and unforgiveable curses, through a pain worse that any torture. I tried to… save what was there to be saved, but Fleur kept her baby away from me and Molly didn't manage to get out of St. Mungo's, and I was lost… Like a stained piece of parchment, like a leaf in the autumn wind, or maybe like a ship floating on a deserted ocean… They all stared at me, the few that had survived, waiting for answers. It was heart-breaking, and I cried until the blood ran from my face and I fainted on my parents' old carpet. What had I done to deserve this? I hadn't killed anyone, I had only wanted to save. I was supposed to be brave, but I felt like there was nothing human left in me.
I had no control over myself at all, and I couldn't sleep anymore, because of the nightmares that haunted me… I tried so hard to tell myself that there was a way out, but the despair took control, and day by day I was falling into the same madness I had come to know in my friends… And then it was dangerously to feel the smell of blood again, haunting me from my memories…
I ran away from wizarding world like it was contagious, but I couldn't deny the fact that I was still a witch… and this was what brought me here. I thought that was going to be my salvation; it turned out to be nothing more than life's final blow to my face…'
How could I have guessed? Voldemort was gone, Death Eaters killed or imprisoned, and Verona Braveheart was the new, outstanding, Minister for Magic. We were all bloody insane, but someone was willing to restore peace and order… or so I thought… And as I sit here smoking this cigar, the image of my dear Ron is being erased from my memory, drowned in my deep state of solitude. Because that November, my life ended.
I was called to the Ministry; they chose me, the brightest witch of her age; they said they were going to offer me a chance at a new life, they said I was going to help more by joining their ranks.… They knew me oh, so very well… They knew I had to fall once and for ever.
That was all it took: my weakness. I was offered a highly valued job at the Department of Mysteries. Lots of money, respect, things to study, the opportunity to begin a new life… how could I refuse?
But this is how they ended my life. The brightest witch of her age was the easiest to catch, the easiest to fool... Why?
Because once I signed up for the job, I was taken from my world into theirs. They separated me, giving me no right to say no, from the few friends that I had left… Because, you see, I wasn't allowed to talk to them, or even come closer to them more than one hundred yards . The day after I signed up for the job at the Ministry, they made a girl drink Polyjuice Potion, so that she looked just like me, then they killed her and showed her to the world.
I can only imagine the pain of my friends, and the pain of those who believed in me. But no matter how much they cried, or screamed or begged, their pain wasn't even half of what I felt. Because they had each other, while I had nothing left.
The tragedy that is destiny? The newspapers, the magazines, they all reported that the famous Hermione Granger had died at the hands of the last free Death Eater, Draco Malfoy.
So, from that moment on, I was theirs; they kept me isolated in the dark, and trapped inside their walls. I learned experiments, I studied so much, I did my best, and saw terrible things, far worse than any terrifying nightmare you could have. They hide some secrets so atrocious, that merely naming them would make your heart freeze. So let's keep it quiet, as it has always been.
Two years I struggled to keep my humanity. But after two years of all of these dreadful things, they said it was all over, that I had to do something else. That day I had a hope. I thought that it was all over, that I could go back to my family and friends, that this was only a test for my strength and brains, and that now things would get back to normal… They lied.
I have grown up into another woman, and they changed my appearance: I was needed outside the walls… Oh, but never would I have suspected what they asked me to do, never, not in my most shameful dreams, nor in my darkest…
A killer; they wanted to turn Hermione Granger into a political murderer. I screamed and denied, and… My prayers were all in vain, because I had to do what they asked me to or they would torture me until my last breath… You wouldn't think these things happened at the Ministry, would you?
My target: wizards with dirty secrets, or the ones who knew about the Ministries own dirty secrets.
How was I supposed to act?
Make them fall in love, or seduce them, then kill them behind their backs. Red gowns, expensive perfume, dangerous moves…. Kill them in the muggle way, erase the evidence in the magical one…
When I finished my first mission, I died. I was left with no soul, no tears to cry... no nothing. I was like a robot, like an old rag doll thrown from a dirty roof. I was their instrument, and they said I played an essential part in their game… If you call killing the French ambassador essential…
But it was a one-way road: when I look in the mirror, there isn't a single trace left of the bookworm Hermione Granger. When I look in the mirror, I see a beautiful woman, mean and harsh, who uses her intelligence where she knows it shouldn't be used...
A ghost, a shadow, and a liar. My stained soul is restless and murdered... My body is perfect and cold. This is me now... I am no one...
My alarm rings loudly: it is six o'clock in the morning and I've had no sleep: I think I should stop smoking… but I can't. I start dressing, and I get ready to go out into the cold sun of April. I enjoy walking around the streets of Muggle London and just… feeling something… something else, beside the constant guilt that eats you alive, something else to think about when you don't want to remember the dead bodies of your victims. I still have the nightmares, I still feel like a scared child, late at night when everybody else drifts off to peaceful dreams.
And then... it's terrible not to have seen anybody you love for five years… I'm twenty-four and growing bitter.
I just want to die sometimes… I want somebody to find me and kill me, somebody to seduce me and appeal to me. My clothes, my body… it's all tainted. I want to... Oh, these cigars… Fall down, Hermione… It's always like that. Oh, but wait, they don't even call me Hermione any more: it's Delirya LeFay now…
But I'm sitting in this chair and thinking about it all. It is something I get used to… making people disappear... The darkness overcomes me, but why should this morning, when I'm ready to make myself lost in the streets of London, be different?
Perhaps because I have a new mission: kill Draco Malfoy, the spy of the Ministry.
Hello there,dear readers! I hope you enjoyed the first of chapter of this story. It might seem a little bit different to you from all the other Dramiones, but keep in your mind that in my plot they are all grown-up and the war was far more dramatic that in the books...
This story is dedicated to my dear friend uptowngirlinlove(who is is also the wonderful artist that created my great banner and will help me with the chapter images) to Aevylonya, for being one great beta, to Mahalia and last, but not the least to you, my wonderful readers and reviewers.
Track This Story: Feed
JOIN HARRY POTTER FANFICTION
---
Get access to every new feature the moment it comes out.
Register Today!