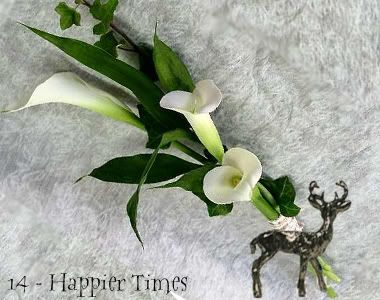 A/N: sorry its been so long since i last updated...hope you enjoy this chapter and plz review.
Chapter Fourteen – Happier Times
Celebrations went for months after Voldemort's final downfall but Harry and Hermione steered clear of them after the Christmas break was over. They, along with their fellow classmates, went back to Hogwarts to finish their final year. It was April now and Hermione was five months pregnant. Her baby bump was very evident and Harry had taken to never leaving her side.
"Mi, make sure you eat plenty of good food for the babies," Harry fussed over her that night in the Great Hall.
"Yes Harry, stop fussing over me, I'm being a good girl."
Ron, Rae and Ginny laughed at the two, "Come on guys, stop acting like an old married couple," Ron said, "Your wedding's not till next month."
"The wedding is next month!?" Ginny exclaimed, "Wow that rolled around fast!" "What's left to organise, Hermione?" Rae asked.
The girls had gone into wedding mode and could talk for hours about flowers, dresses and vows. Harry could happily listen to this banter for ages. It was his wedding and nothing could make him happier than marrying Hermione. Ron, on the other hand, found it boring.
"Next Hogsmeade trip I'll be picking up the dresses," Hermione said to the other girls, "And Harry will be picking up his robes."
"Ohhh," they exclaimed, "That's this Saturday."
Ron yawned as the screech of an owl was heard overhead.
"Odd time for post," Hermione mused, as the owl swooped down and dropped the letter in the middle of their group. They all leaned in to read the address:
Ron & Ginny Weasley
The Great Hall
Hogwarts
Ron snatched up the letter and read it quickly to himself. Then went bright red. Harry read the letter over his shoulder, "Congratulations mate," he clapped Ron on the back, then turned to notice the others waiting to be clued in, "Oh it's from Fred and Angelina," Harry explained, "You are an aunty Gin, a girl named Elle."
Ginny squealed and grabbed the letter off Ron to read it for herself.
"Why the red face, Ronald," Hermione asked.
"I know why," Ginny said, giggling, "Fred has been rather informative in his letter. I think Ron just got a vivid lesson in how a baby is born."
All three girls started laughing. Harry just looked at Ron, slightly apprehensive.
***
"Now, Harry, sweetie, you can't come with me to Hogsmeade today," Hermione said as she and Harry dressed, "You and Ron will have to busy yourselves elsewhere."
"Why?" Harry said with a trademark grin.
"Because I'm picking up my dress and you're not allowed to see it!"
"Fine. Have fun and I'll see you at tea."
***
Harry and Ron decided to go to Quality Quidditch Supplies because Harry needed some wax for his broomstick servicing kit.
"So are you nervous about the wedding, mate?" Ron said as he browsed through the collection of Quidditch memorabilia.
"No – I'm more nervous about being a dad," Harry spoke truthfully.
"You'll be right. Hey get these for the babies," Ron moved to the broomstick display and selected a Nimbus Z, a toddler sized broom.
"Ah, Hermione would kill me – besides, at least one of them is a natural flyer, they don't need to practice early."
"Great!" Ron exclaimed sarcastically, "Impending fatherhood has taken away my mate's disregard for rules and sensibility."
"Big words for you Ronnikins," Harry laughed as something in the corner of the shop caught his eye. It was a plush Quidditch set just like the one Sirius had given him on his first birthday. He explained the memory to Ron as he purchased the set.
"I guess Hermione will like that better," Ron conceded.
"Yeah, come on, I have to pick up my robes for the wedding. Then we can go get a butterbeer – my shout."
***
Harry returned from Hogsmeade to find Hermione asleep on the couch. He smiled to himself as he picked her up and carried her into the bedroom. After he laid her on the bed and gave her a kiss, he retrieved the parcel from Quality Quidditch Supplies and crawled onto the bed next to her.
Touching her rounded tummy he grinned, "Hey kids, daddy bought you a present today," He opened the box and proceeded to explain each ball's job to his unborn triplets.
While he was explaining the reason for the clubs, Hermione woke up. Silently she smiled and let Harry finish.
"That's really sweet, Harry," Hermione said softly, "You'll make a great father."
***
The fourteenth of May arrived rather fast for Harry, and he found himself feeling nervous on the day of him wedding.
He stood at the altar with Ron beside him. Waiting. He looked at his watch, Hermione was late.
"Don't worry, they're supposed to be late," Ron said.
As if on cue, the music started up and everyone turned to the back of the church. Ginny and Rae began to walk down the aisle. They both wore a shade of emerald to rival Harry's eyes. The gowns were simple yet elegant. They reached the altar and stood opposite Harry and Ron. Harry smiled nervously at them and got a wink from Rae and a thumbs-up from Ginny in return.
He then focused his attention back to Hermione, who had just appeared at the other end of the church. Harry was momentarily short of breath. She was stunning.
Hermione's dress was strapless. The skirt hung from the bust line to elegantly flow over her pregnant bulge and was made up of satin with layers of organza over the top. The filmy material stretched out behind her to form a six foot train.
Underneath her veil, Hermione's hair was a pile of perfect curls. The style similar to the one she wore to the Yule Ball three years ago. As she neared the altar, Harry noticed something that almost brought a tear to his eye. Hermione carried a bouquet of lilies tied together with an emerald green ribbon. On the end of the ribbon swung a small, glass figurine of a stag.
Hermione smiled, noticing Harry's reaction to her tribute to his parents. She reached the altar and took her place next to Harry.
"You look beautiful," Harry whispered, "Thankyou."
"We are gathered here today to witness the marriage of Harry James Potter and Hermione Jane Granger," the celebrant spoke, "The couple have chosen to speak their own vows."
"Hermione," Harry began, "You have been my best friend for the better part of my life. I believe that is the best foundation for love to grow.
From the day I met you, I knew you were special and from this day on I vow to love you forever. I'll always be there when you need me and I promise to be the best husband and father I can. I love you."
Hermione smiled, "Harry, since you turned up in my life more than six years ago, everything has turned around. There is never a dull moment with you and I wouldn't have it any other way.
Life without you would be unbearable and that is why I promise to love you, unconditionally, forever and to always be there when you need me. And I promise to bestow upon our children all the love you deserved as a child and more. I love you too."
"Could I have the rings, please," the celebrant said. Ron stepped forward with them.
"Harry, do you take Hermione to be your wife?"
"I do," Harry said, slipping the ring over Hermione's finger.
"Hermione, do you take Harry to be your husband?"
"I do," Hermione placed the wedding band on Harry finger.
"I now pronounce you husband and wife. You may kiss the bride."
As Harry leaned in to give his bride a kiss the crowd of friends and family fired fireworks from their wands.
***
"So Mrs Potter, are you ready for our first dance?" Harry asked his bride.
"Of course I am, Mr Potter," Hermione replied, taking Harry's out stretched hand and following him onto the dance floor as the song they chose started playing.
Feels like I have always known you
And I swear I dreamt about you
All those endless nights I was alone
It's like I've spent forever searching
Now I know that it was worth it
With you it feels like I am finally home
Falling head over heels
Thought I knew how it feels
But with you it's like the first day of my life
Cuz you leave me speechless
When you talk to me
You leave me breathless
The way you look at me
You manage to disarm me
My soul is shining through
Can't help but surrender
My everything to you
I thought I could resist you
I thought that I was strong
Somehow you were different from what I've known
I didn't see you coming
You took me by surprise and
You stole my heart before I could say no
Falling head over heels
Thought I knew how it feels
But with you it's like the first day of my life
You leave me speechless
When you talk to me
You leave me breathless
The way you look at me
You manage to disarm me
My soul is shining through
I can't help but surrender
Oh no
My everything to you
You leave me speechless
(the way you smile, the way you touch my face)
You leave me breathless
(it's something that you do I can't explain)
I run a million miles just to hear you say my name
Baby
You leave me speechless
You leave me breathless
The way you look at me
You manage to disarm me
My soul is shining through
I can't help but surrender
My everything to you
"I love you Hermione," Harry whispered.
"I love you too, Harry."
A/N: the song is called 'Speechless' by The Veronicas.
Track This Story: Feed
JOIN HARRY POTTER FANFICTION
---
Get access to every new feature the moment it comes out.
Register Today!