---
Rating

15+

Chapters

15

Reviews

342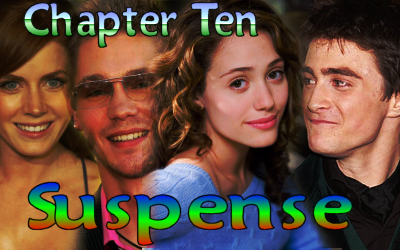 Miles Devero had hit pay dirt. About halfway into September, Peter Schaffer, the Slytherin Head Boy, had to surrender his badge. There were several theories as to why, but no one but Schaffer, McGonagall and Longbottom knew why.
With the newly-vacant spot for Head Boy, Longbottom made the decision to let the 6th and 7th Year Prefects decide on the position. Miles had the votes of everyone but the Slytherins.
So he had taken the position, the responsibility and the private room. Not to mention Flitwick praised him every chance he got.
Miles took his position very seriously. He maintained longer hours than necessary, offered to do additional rounds, and started a tutoring club for the younger students. So everyone was surprised that morning when, while a First Year was talking to him about something that had happened in Herbology, his eyes were fixed on the doors of the Great Hall, mind a million miles away.
"Oi. Miles … she won't be here any faster even if you
do
keep staring at the door," Scorpius smirked.
"Hush," Miles side from the side of his mouth, head turning slightly towards the First Year but eyes still waiting for Rachel to show up. He didn't know what he expected. He didn't know if he thought she would dress up for their
maybe
date. He didn't know what it would mean if she did or didn't.
"Holy shite," Scorpius muttered as the group of 6th Year Ravenclaw girls walked into the Great Hall.
Miles was about to scold him for his language but all the spit dried up in his mouth.
The girls didn't look out of the ordinary – not that much, anyway. Sure, they weren't in baggy clothes all the time or anything, but somehow that day seemed different.
Miles' eyes grew wide as he took in the picture of Rachel gliding into the Great Hall. She was in a pair of dark jeans – they looked well worn but who could tell with style these days? – and a white shirt with a pale yellow jumper over it. Her straight brown hair fell over her shoulders and she had a smile on her face as her roommates chatted with her.
He couldn't believe there was a chance she'd be meeting him for lunch. Maybe. Possibly.
Scorpius, however, stood up. Rose was in the middle of a sentence when her head turned and their eyes met. She stopped talking immediately and smiled at him. She pulled her bottom lip between her teeth and cocked her head slightly to the side.
She was dressed in a pair of jeans and a blue shirt. Scorpius liked how it hugged her figure. She also had a black jacket with her – he could hear the Rose in his head say "just incase". He smiled slightly at that.
He held a hand out to her and she moved to him immediately. He embraced her and then kissed her lightly on the lips.
"You look fantastic, Rosie," he said softly.
"Thanks," she smiled. "You look good too."
He internally smiled. So she liked his khakis and black shirt.
Miles cleared his throat when Rachel approached him. "H-hi. Y-you look great."
Rachel gave him a small smile and took the seat Scorpius had been occupying – but the blonde was far too busy with Rose to notice. "Thank you. I, uhm, I like your hair like that. Looks like you just got off your broom."
Miles unconsciously ran his fingers through his hair. "Thanks. I, uhm … thanks."
Charlotte laughed out loud.
"Shove it," Rose muttered to her blonde friend.
It only made the girl laugh louder.
"So," Miles began haltingly. "I was, er, wondering if we could meet up for lunch. I mean, I wouldn't want to keep you from your friends or anything …"
Rachel looked down at her goblet of pumpkin juice – or rather Scorpius' goblet of pumpkin juice – and smiled. "Well," she said as she looked up at him, "I was rather hoping we could do a bit of shopping before lunch. I need to get Rosie a gift for her birthday and was thinking of getting her something for Quidditch … and I know shite about the sport and thought maybe you wouldn't mind spending some extra time with me and helping me out."
Miles, to put it mildly, was floored. Was she asking him to spend more time in Hogsmeade with her? He knew that's what she'd said but his mind wasn't willing to jump to the conclusion he so desperately wanted it to.
Be cool
, he told himself.
"Su-sure," he said with a smile. "I can help you out with the Quidditch stuff if you want."
"And, uh … maybe you can go with me to get some sweets from Honeydukes? I like to buy a supply for a few months … assuming they last that long," she said with a smile.
"Yeah," he said, astonished. "I mean, we could even, you know, just go ahead and spend the day there. And we could, you know, shop for things."
She gave him a slight smile, not quite sure he was okay in the head. But then she remembered Rose mentioning that he must fancy her if he was willing to work up the bits to ask her to Hogsmeade.
"We could. Maybe we can go to Rose's uncle's shop …"
"That would be wicked."
"Right, so … it's a date?" she asked.
Miles froze, goblet halfway to his mouth.
She could mean anything by that
, he told himself.
Birds say that all the time and it doesn't mean it has to be a
real
date
.
"Only if you let me buy your lunch," he said with a charming smile – one that he had no idea he was in possession of.
She arched a brow at him, wondering where that came from. "Isn't that what blokes usually do on a date?" she asked with a small smile.
"Just making sure you understood," he replied.
"I do," she said as she turned a pretty pink color and grabbed a plate in order to fill it with food.
Meanwhile, Scorpius and Rose were chatting quietly about what they would be doing that day.
"So I was thinking we wouldn't go anywhere near your Uncle George's shop," Scorpius told her. "I mean, I know your dad and mum know about us and everything … but that uncle of yours is a whole other story."
"I think Roxie is actually interning with him so I wouldn't want to go 'round there anyway. She's a right pain sometimes."
Scorpius laughed and then leaned in for a kiss. It was slow and sweet. It was basically the perfect "in public" kiss. He reached down and held her hand as he pulled back. "I'm glad we get to spend the day together."
"Me too," she smiled. "It's going to be so nice spending it outside, holding your hand … this will be our first Hogsmeade visit together at all."
"You're right," he said with a smile.
"As usual," she said with a tiny chuckle.
They were quiet for a few minutes before a loud bang erupted from the Gryffindor table.
"ALBUS SEVERUS POTTER!" a Fourth Year girl shouted.
"Shite," Rose said with a grin.
"That's Kate Spencer, yeah?" Scorpius asked.
"Yeah. She comes 'round at Christmas time. She's the muggleborn who's friend with Hugo," she explained. "Right prat that he is."
"Al or Hugo?" Scorpius as with a smile as he sipped his juice.
"Hugo," she said with a frown. "He convinced Kate to come over and then ignored her. I know she had a talk with Al last Christmas but I have no idea what it was about. They're both very much alike …"
"And very much different," Scorpius added as he watched the young brunette frown at his girlfriend's cousin. "She looks right angry."
"You stupid prat!" Kate shouted again. "Change it back!"
Some of the Gryffindors around her were snickering but no one else seemed to understand what she was so angry about. Albus was laughing so hard he was crying and his face was turning an odd shade of purple from lack of oxygen.
"Why, Kitty?" Al laughed.
Albus Potter had become much like his father and grandfather – mischievous. He had been terribly serious why trying to keep boys away from Rose (and vice versa) but now, since he was relieved of that heavy burden, he was becoming what his mother had called "his true self."
Apparently, Kate was unhappy about that.
"First of all, Albus," Kate said, "my name is Katharine. Second, don't ever call me kitty again or you'll be finding yourself transfigured into one. And third,
please
change this ridiculous skirt back into my jeans!" The last exclamation was loud enough to have nearly all of the boys in the area scrambling for a peak.
Rose knew that Spencer was more like her mother than she was. Kate was a muggleborn Gryffindor who was drawn to a Weasley and a Potter. Kate was intelligent and
very
prim and proper. Her uniform skirt reached below her knees, for Merlin's sake.
"You have nice legs, Spencer," Al told her. "You should show them off more."
"Sod off," she exclaimed before standing, grabbing her ever-present books, and storming out.
"Al is in deep shite with that one," Scorpius muttered.
"No doubt," Rose replied.
"Ready?" he asked as he extended her hand.
"More than," she said with a smile as she took his hand, stood, and exited the Great Hall with him.
She couldn't help but allow a smile to cross her face. She was officially on her first date with Scorpius Malfoy.
Track This Story: Feed
JOIN HARRY POTTER FANFICTION
---
Get access to every new feature the moment it comes out.
Register Today!