Author's Note: This chapter is dedicated to teh tarik, Elphaba&Boyfriends, EverDiggory and TenthWeasley, who have been wonderful enough to review every chapter of Sheer Abandon so far and who have doled out so many positive, amazing comments. You guys are awesome, seriously. ♥
Just so you readers are aware: alcoholism is included in this chapter. That's why the rating has been changed to Mature. Please note when you read that I am writing from a character's flawed perspective; I am not glorifying alcohol personally nor do I support regular over-consumption of it. :)

Gorgeous chapter image by nala @ TDA!
---
Chapter Four: The Age Of Regrets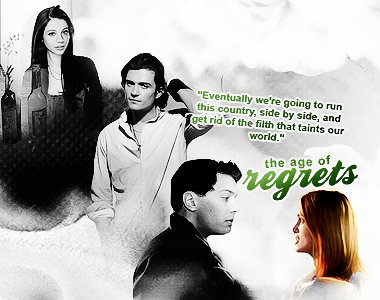 ---
The one-bedroomed shabby apartment in Knockturn Alley was gloomy; the walls had once been a brilliant white, but were now in desperate need of painting. The ornate fireplace was starting to crumble away, its former beauty having depleted over the years. In the darkly-lit kitchen, Fiona Phoenix sat on a second-hand chair so old it creaked under her weight, replaying the events of Walburga's reception in her mind and trying to analyze her own actions and what she could have done differently in order to create a more positive outcome instead of being in the position she was now: shivering in Tom's bitterly cold apartment, since her flowing green dress and black poncho had been designed to accentuate her beauty rather than provide warmth. The head wound that she had sustained at Number Twelve, Grimmauld Place had been patched up by a reluctant Tom after she had refused to visit St Mungo's, with the promise if she experienced dizziness or similar symptoms then she would attend the hospital regardless of her hatred of them.
"It wasn't your fault, Fee," Tom whispered quietly, placing a mug of steaming hot chocolate on the table in front of her. "Walburga is responsible for her own actions. You tried to intervene, and she failed to take your advice. That's her problem, not yours."
"She's my best friend, Tom, just like you are," Fee answered, staring at the puffs of steam emitting from the scalding liquid intently. "I should have been able to help her."
"You can't help people who don't want to be helped- I should know," Tom sighed, knowing that the moment wasn't right to press the matter. "There's a letter from Slughorn on the sideboard, I'll leave it there so you can read it whenever you want; it arrived earlier."
"Why are you receiving post addressed to me?" Fee enquired, this time turning to look up at her friend.
"I didn't," Tom explained. "It arrived at Grimmauld Place when you were at the wedding, and Pollux Black passed it to me so that I could give it to you. I didn't have a chance to before now."
"Come on," Fee replied, extending her open palm. "Give it to me."
Tom complied with her request, and Fee tore open the envelope unceremoniously. Her eyes quickly scanned over her former Head of House's handwriting, however Tom noticed the flame-haired witch re-reading the letter with a growing trace of a smile. While he was surveying her, he noticed goosebumps on her skin and quickly conjured bluebell flames in the fireplace, silently reprimanding himself for forgetting that she was wearing less layers than him and was therefore more susceptible to the cold.
"Good news?" he asked, sliding into the seat opposite her and placing his own cup of hot chocolate on the table.
"Slughorn's recommendation to the Auror Office worked- I've just heard back from them. As of Monday I'll be starting Auror training. He says here that I'll spend three days of the week at the academy and two being mentored by one of their best Aurors."
"Do you know who the Auror is?" Tom queried.
"No," Fee answered, "but as long as he or she isn't a Mudblood, it's fine. I'm a Slytherin, Tom; it's going to take more than a foul blood traitor to taint me. You know as well as I do that being an Auror is simply the fastest route to being Minister."
"I know," Tom nodded. "But at least working at Borgin and Burke's guarantees me a clientèle of pure breeding. What happens when you're expected to save the lives of Mudbloods or Muggle filth?"
"Then I save them. Until I become Minister, Tom, I have to play by the rules," Fee responded, standing up so that she and Tom were face-to-face, or alternatively face-to-chest since she was a good deal shorter. "And whether you like it or not, so do you."
She surveyed Tom closely, staring into his piercing blue eyes. His brunet hair and barely-there stubble caused him to look older than his eighteen years, but his eyes betrayed his youth, which Fee couldn't understand. This was her best friend, who had just spent a week in Albania for a still undiscovered reason; who had come back to Hogwarts from their fifth-year summer as a changed man. Intellectually, he was the oldest of their little quartet, but somehow she could only see him as the schoolboy he had been. Even the way he tried to wriggle out of the situation was reminiscent of when they had been eleven.
"I don't have any current plans to become Minister for Magic," Tom shrugged, pretending not to know what his friend was talking about.
"Don't play games, Tom," she retorted quietly. "Your plans involve far more law-breaking. But that's OK. You do things your way, I do them mine, and eventually we're going to run this country, side by side, and get rid of the filth that taints our world."
Tom smiled darkly, his eyes firmly fixed on the redhead. He couldn't fathom how the majority of people claimed that Fee's eyes were emerald green considering that when he looked into them, he saw only a shade of chocolate brown. Her skin was porcelain, marred only by freckles so opaque, they could only be noticed if you were looking at her closely. But as he looked at her, he could see nothing but the defiance and ambition that she was famous for.
"It's good to see that you still have your priorities straight," he said confidently.
"That," Fee smiled, "will never change."
---
Brunette hair fell down her back, untamed and unbridled. Her dark eyes were framed by redness from the tears that had flowed down her cheeks earlier that evening. It was silent now; the reception had ended and her guests had departed, discussing Cedrella's disgusting marriage to the blood traitor Septimus Weasley. In any other circumstances, Walburga Black would have been furious that her reception hadn't been memorable enough to divert attention from Cedrella's betrayal, but tonight she felt nothing but guilt. She had committed one of the ultimate crimes in a friendship; she had physically hurt her best friend and possibly caused serious harm. Fiona Phoenix had been Walburga's confidante for seven years, and still the older witch couldn't name a reason for why she had done what she did.
"Walburga?" Orion's voice was soft as he walked into their new marital bedroom- Walburga's former bedroom now about to be converted into a guest room. "I Flooed St Mungo's; Fee hasn't been there. It can't be that bad."
"Fee doesn't like hospitals," Walburga answered tonelessly, still staring at the just-polished floor. "When she first started showing the signs of magic, the idiotic Muggles looking after her put her into a psychiatric hospital. She wouldn't even go near the hospital wing when she was at Hogwarts unless she was seriously injured."
"I asked St Mungo's to inform me if she was admitted overnight or tomorrow, in case she didn't go straight away, so we'll know by tomorrow if her injuries were serious enough to merit hospitalization," the dark-haired wizard answered, setting a small tray on the bedside table. "Walburga, you made a mistake. Everybody makes mistakes, even Fee, and I'm sure she'll have forgiven you by tomorrow."
"Will she?" Walburga's eyes betrayed uncertainty; she honestly couldn't be sure, because she had never been in this position before.
"I'm positive," Orion smiled as he took a glass from the tray and proffered it to his new bride. "Drink this; it'll help you to relax."
Walburga took the ornate glass of elderflower wine from her husband, staring at it suspiciously. She was about to reject it, explaining that she had drunk almost three bottles' worth of alcohol today, but then she remembered how, whilst preparing for her NEWTs, this very beverage had kept her nerves steady when she had been stressed from the pressure of trying to excel in her subjects. Fee had complained about the amount Walburga had been drinking, and demanded that she cut down once they graduated, which led to the brunette reluctantly agreeing to trial her suggestions while deep down believing that Fee was being over-dramatic. In the two weeks since their graduation, the only alcohol that Walburga had consumed was the daily glass or two of wine with her evening meal that was customary in the Black house. It must have been why she had acted so irrationally today: the prolonged lack of alcohol must have been the cause of her highly-strung nerves. Without hesitating, she brought the glass to her lips and gulped down the whole contents thirstily, before holding it out to Orion in a silent request for a refill.
She would visit Fee as soon as she returned from her honeymoon and apologize. But before then, she needed to consume as much elderflower wine as possible so that she wouldn't lose control of her emotions again. Fiona Phoenix had been wrong: alcohol relaxed Walburga.
It absolutely did not send her spiralling out of control.
---
The Auror Office at the Ministry for Magic was bustling, full of several witches and wizards all working as fast as they could. Countless owls swooped everywhere, bringing messages from other departments and taking back replies. Fee stood in the midst of the chaos, staring at her surroundings sceptically. She had heard tales of the excellent work that Aurors did, but she couldn't understand how they were organized enough to have the ability to catch criminals. The desks were laden with precarious towers of paperwork and personal effects stacked haphazardly; a far cry from the meticulous organizational skills that Fee had possessed since she had been Sorted into Slytherin.
"Ah!" a tall wizard grinned as he approached Fee, motioning for another wizard to approach. "I see two of our new protégées have arrived. Miss Phoenix, Mr Moody, welcome to the Auror Office. I'm Roy Savage and as you might know already, I'm the Head of the Auror Office. Today you will both be assigned to an Auror who will teach you the practical skills of this career and provide on-the-job experience. I must stress that it is very important that you do not disobey the Auror mentoring you, as unacceptable behaviour will lead to your expulsion from Auror training, regardless of your skill at the academy. Is that understood?"
Both Fee and Moody nodded, and Savage quickly walked towards a miserable-looking wizard poring over a
Daily Prophet
article, muttering grumpily to himself.
"John Dawlish!" Savage's voice boomed loudly over the hubbub of the office. "Might I introduce you to Alastor Moody, your new protégée."
"Moody?" Dawlish looked up from his newspaper. "Aye, I remember old Alastor saying his son wanted to join this office. I hope you're as good as your papa is, Moody my lad."
"I hope to be," Moody answered.
"Well, we'll leave the two of you to get acquainted," Savage said, before Fee over to an empty desk in the corner, not too far away from Dawlish's desk. "Now, where in Merlin's name is- oh there you are, Septimus!"
Before Fee could query exactly who Septimus was, or if he was the wizard that had come to mind the instant that Savage had mentioned his name, a redheaded man in his late twenties with a handsomely trimmed beard loomed out of nowhere, balancing a stack of files precariously on one hand and clutching the handle of a briefcase in the other. His situation was worsened by the fact that the briefcase was shaking violently.
"Hey. Hold that a minute, would you?" the Auror muttered, dumping the files into Fee's arms unceremoniously without even a glance at her.
He then opened one of the drawers in his desk and put the briefcase into it before slamming it shut. Fee proffered the files, and he muttered a quiet "thanks" before taking them and dropping them inconsiderately onto his desk, apparently not caring when they spilled uncontrollably across the already-crammed space available.
"Septimus, this is Fiona Phoenix, your new protégée," Savage grinned, pushing Fee forward. "Miss Phoenix, this is Auror Septimus Weasley, your new mentor."
"Any chance I could exchange her?" Septimus asked with a false delightful smile, attempting to charm his boss. "Only, if she's the same Fiona Phoenix I'm thinking of, it's not exactly the greatest of ideas asking a Gryffindor and a Slytherin to work together."
"Put up with it," Savage answered. "She's one of the best in her year, was Prefect and Head Girl, graduated with all Outstandings and according to Horace Slughorn, her organizational skills happen to be the best he's ever seen. You know as well as I do that I pair Aurors with their protégées so that they're beneficial to both parties."
"How do you propose a little brat like her is going to be beneficial to me, even in the slightest?" Septimus raised an eyebrow.
"If that isn't obvious, Weasley," Savage replied with a pointed look at Septimus' abysmally organized desk, before looking at the man himself with a criticizing glare, "I suggest your next purchase is a pair of glasses."
---
Dear Fiona,

I heard rather an amusing phrase today. "If wishes were fishes", I'd overheard a stranger say in the street, but as I was running late and consequently in a rush, I was unable to pause and hear what the rest of their sentence was. However, the phrase has played upon my mind all day, and I decided it was too catchy not to share with you.

If wishes were fishes, I would spend countless hours fishing by the lake so that I could present you with all of the wishes you desired, in the hope it would make up for what I did.

I'm so sorry. Please forgive me.