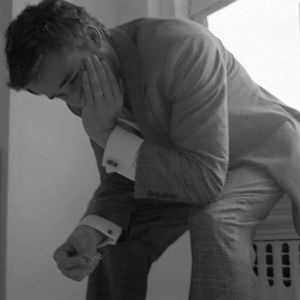 ---
Sitting in on a lunch date, I blankly starred at the man across from me and couldn't help, but think he would be a much better match for Lauren. He was cynically funny, impulsive and completely career driven. And I did like him, but twenty minutes into it, I came to the conclusion that I wasn't even remotely attracted to him.
He was attractive, he was tall, he had dark skin and wavy dark brown hair with a quirky smile. But I felt nothing. I genuinely laughed at his jokes, and I had no trouble finding things to talk about with him, but …there was something that was missing. I didn't want to kiss him. I didn't even consider what it would be like. Many people might not consider that a problem, but I do. If I'm on a date, there has to be something. Maybe I won't want to rip his clothes off with my bare hands, but I will at least be interested in what that might be like. As I sat there, hearing him regale me with stories, I felt nothing.
Maybe Kelly was right. Maybe, I didn't want to let go of Scorpius. Originally I legitimately tried to. After I put the pieces of my life back together I went on countless dates, I tried to get interested in other people. But I couldn't. And it wasn't that he himself was stopping me, but it was the fact that I knew, without having any idea how I did, that there was no one I could possibly love as much as I loved him. It wasn't something I wanted or asked for. I tried to let go of him. Once I realized the distance wasn't working, I tried to be an adult and break up with him. The part I didn't get was whether I was with him or not I was still his without meaning or evening needing to be.
The date ended well enough, and I headed off to work in a good mood. We agree to hang out, but he seemed to be feeling the same way I did. I liked when things ended like that, no offense taken, no hearts broken, just a passive agreement that we aren't right for each other.
As I settled into my desk, my mind unintentionally went to Scorpius. It had been years, but not a day passed where I didn't physically feel like I was missing something, a part of myself that I'd given to him and never gotten back. When the break up was fresh I used to imagine fairytale situations where he would run after me and proclaim his love for me. That was not going to happen. He could be married with children for all I knew about his life since we parted.
I'd stopped crying about it, and I hadn't openly talked about Scorpius to anyone since it happened, but even I can acknowledge that it's taken a toll on me. I used to be different. Not better, not worse, but different. My torture, my father's death and ending things with Scorpius were a series of the most awful things that inevitably changed me. And I know a part of Kelly is waiting from me to change back, for me to just wake up and be the person I was, with all the optimism, all the hope all the dreams. But what Lauren has come to accept, and what I already know, is that I won't. Too much has happened for me to go back to the person I used to be. I blew out my desk light and stacked my papers.
The other day Kelly asked what I would do if I saw Scorpius. I told her I didn't know, but that was a lie. I would run from him. Like a scared five year old I would bolt. I did however tell her the likelihood of that happening was slim to none. He was accepted to the American Ministry not my ministry and the very thought of him coming back was so foreign and outlandish that I didn't even bother to give it any more thought.
I threw my jacket over my shoulder, locked up my things and left the Ministry. I had to be one of the last people leaving, but I wasn't fazed, this wasn't something that would become a novelty, long hours came with the job almost as much near death situations did. When I got back, I cleaned my room, made dinner for myself and ate in silence. A knocked echoed on my front door. I checked my watch and was surprised. Lauren was away on a trip, so really there was no one I knew who would knock on my door at 3 in the morning.
Grabbing my wand, I went to the door. "Who is it?"
"It's Anthony." A gravelly voice replied.
Curious, I opened the door and found that it really was Anthony Sampson at my door. Automatically, I opened the door further and let him in. "What's going on?"
"I'm sorry to bother you."
"No, it's fine. Please come in, would you like anything?" I asked politely.
He shook his head, "No I just wanted to tell you personally that in a month, I'm going to be asked to be switched to another partner."
Biting my lip, I felt furious. "Is this because of the guys? Because of what they keep saying about me?"
"No! Not at all!" I defended himself quickly before leaning against my kitchen counter.
"Because I can handle myself just fine, and they're full of shit." I told him fiercely, crossing my arms over my dancing penguin pajamas.
His dark hair fell into his bright blue eyes elegantly. "No, I know you can."
"Then…I'm sorry, but I don't get it. Is there someone else you'd rather work with or something?"
"No…it's not
that
."
I didn't get it. Why had he come here? Why was he saying this? Sure it was polite to let me know in advance so I wouldn't be caught off guard, but why here? Why now? Glancing up at his face, I felt my chest tighten. I knew there was something I wasn't getting and the longer I looked at his features, the more I knew I was right.
"Sampson…the first time we met… you said you'd met me before? Why?"
Casting his eyes downward, he looked extremely uncomfortable as he stuffed his hands into his pockets. "Well…
it doesn't really matter.
"
"Now it does." I insisted.
"Well I was in a bar, a few years ago, and you were there with your friends-"
I interrupted him, "How many years ago?"
"Four years ago, I think you were celebrating something, because you and your friends had a lot to drink."
My heart clamped up, as the memory in question started to come back to me. I heard the music playing in the background, and I felt the effects of the excessive amounts of alcohol that I'd ingested splashing around my intestines.
"I just made it through the first phase of training." I told him distantly, trying to strain my brain to remember.
The night was kind of a blur, but now that I thought back on it, I did see Sampson.
And
….my nerves raised as comprehension came to me. I also danced with him and snogged him for half the night. If Lauren hadn't needed me to go with her to a ministry breakfast the next day I would have slept with him. A deep scarlet flush grew on my face.
"
Oh
…" My eyes widened in comprehension. "I'm sorry…I didn't-"
"I know," He muttered with an embarrassed smile, "How could we have known?"
I let out a mortified laugh. "Wow…Okay, so it must have been awkward for you then."
"Not really, actually the reason I'm having a problem is before is because…well I have no problem with it." Anthony confessed, brushing his fallen bangs out of his olive skinned face.
"I don't understand…" I drifted off, and then my blue eyes lightened in recognition. "Oh…
I see
."
He raised his hands sheepishly. "Don't think I'm asking anything out of you. I just thought you should know."
"Well thank you, I appreciate it."
"I'll see you tomorrow." He smiled awkwardly exiting the way he came.
---
I locked the door behind him, and slid down the closed door. A ghost of a giggle appeared on my lips as I pressed my knuckles to my lips. I'd been on dozen's of dates with men from a variety of fields, with vast different looks, and completely separate personalities, and yet to get me to giggle all it took was for Anthony to say he liked kissing me.
As I sat alone in my flat, I daydreamed about what it would be like to kiss Anthony for real. Not because we were pretending to be a Belgium couple. Not because we had to blend in with the crowd by seeming young. But because I honestly wanted to feel the pressure of his lips on mine.
After a few minutes of indulgence, I shook my head and pushed myself to my feet. I couldn't think of Sampson like that. Until he was transferred he was strictly off limits. The Auror department had strict rules about inter-office dating and explicitly forbid partners dating. But even as I brushed my teeth and slid into bed, I couldn't keep Sampson off my mind. How had he done this? He was in my flat for less than five minutes, he didn't touch me or anything and yet, now I couldn't think of anything else. Suddenly I was fifteen years old again and the rush of young infatuation pumped through my heart.
Waking up the next morning, I did my morning routine like I did every other morning, but this time it was different. This time, I couldn't keep the stupid smile off my face. Sampson wasn't going to do anything, I knew that. I also knew that nothing could come of his confession, but I couldn't stop the spring in my step that his startling confession had caused.
During lunch, Albus eyed me oddly over his sandwich. "You're acting weird."
"What?" I blinked unsurely.
"You're smiling…" He noticed aloud suspiciously.
I furrowed my eyebrows. "I'm excited about my salad?"
"Rose, don't be daft, no one gets excited about a salad." Albus pointed at me accusingly. "You are shagging someone."
"No I'm not!" I replied hotly. "I'm not even seeing anyone."
"Are you sure? Because you seem to be blushing pretty hard for someone who isn't getting any."
I threw a biscuit at his face. "I'm flushed, because my male cousin is talking about my sex life!"
"
Or lack there of really
," He retorted unphased. "Come on Ro, you're not getting any longer and with your job you might as well get it when you can."
"I'm absolutely not talking about this with you!" I shook my head, before checking my watch. "Speaking of which I have to go.
Albus's green eyes lit up with editorial excitement. "
What are you guys up to
? Is it opp? A deep secret mission-"
"Or," I cleared my throat authoritatively, "It's absolutely none of your business."
Albus let out a long drawn out sigh. "Ever since you've joined the Auror's you've become no fun."
"I promise next time I will stay longer and bring mad libs." I held up my hand as if swearing an oath.
"Add that you'll pay and I'm in." He smirked at me tossing a grape into his mouth.
I scoffed as I tossed my jacket over my shoulders. "You make almost twice as much as I do, there's no way in hell I'm paying for your meal."
"Was worth a try." Albus shrugged to himself as I hugged him and ruffled his untidy hair.
"See you later loser."
---
Once I arrived back to work the place was in chaos. Sampson found me and threw my Auror robes at me. "Come on, we're on assignment!"
Up for anything, I pulled on my robes and listened to him as he explained the mission. It sounded exceedingly difficult. Apparently known terrorist Michael Sycamore was spotted in Scotland. It was our job to get any information we could without raising any awareness. The reason that was difficult was because we were required by law to indentify ourselves as Auror's to anyone we question. And the minute we get out our badges the murder suspect will get wind of it and disappear. So the question was how the hell we're we supposed to find anything out when we were so out in the open?
Anthony had an idea that I do the questioning and he shadow me. The only way we had to wear our proper Auror attire was if we were doing any questioning. If Sampson was with me or in the area he didn't have to wear the robes in the badge, so he would be able to check out the surroundings and maybe overhear some information from the people after I left.
For three hours I had gone door to door to talk to magical residences who might have come in contact with the suspect and came up with nothing. That all changed when I was talking to an elderly woman with a heavy Scottish accent. I heard a noise, only something a trained professional would hear and then I caught the flash of movement behind the shop, I stopped talking and immediately bolted after it. It wasn't even a conscious decision; it was a reflex like a dog chasing a squirrel, something that was hardwired into me on how to react.
I shot curse after curse after him to stop him, but he just dodged them all. Mentally, I had to give him credit he certainly did have home court advantage like knowing where the shopkeepers kept their trash so he could avoid them and I wouldn't know to for example. Somewhere in the chase my cloak flew off, but I didn't pay it any attention, I could always buy a new one.
He ran with amazing speed up the stairs and with the help of his wand broke into an abandoned flat. I raced after him, my feet carrying my small, but long body faster than any girl my size should be able to move. I almost caught him, my wand was raised and I was about to stop him. He had nowhere left to run, he was at the window facing an empty courtyard. But as I raised my wand, he smirked.
The fugitive made it over the line and apparated away before I could catch him. Swearing under my breath, I leaned back against the wall and put my hands above my head as I panted. Technically we hadn't failed because we weren't told to apprehend the subject, just get information on him. Still, the adrenaline in my bones was stilled in anger. Climbing down the stairs of the apartment, I smacked right into Anthony.
"Did you catch him?" He asked after helping me stand up straight.
I grimaced, disappointment rising in my chest. "...No."
"Well it's okay," He grinned.
"Why are you grinning?"
Anthony held up my cloak and a notebook I'd never seen before. "Because I know where he is going."
I was so excited that I threw my arms around him in a hug. Once I realized that this was a ridiculous response, I started to pull away just as his arms went around me. Our faces were mere centimeters apart and still my race was pulsing from the ten minutes sprint I just was in. Our eyes locked and I felt a shiver shoot down my spine. I was about to back away. I was about to do the right thing, I really was, but then he leaned down, seemingly unable to stop himself and our lips touched.
God it was stupid. Merlin
I was stupid
. I could get written up. I could even be fired for this, but the feeling of Anthony's cool tongue glide against mine erased any and all protests from mind. I didn't care about the consequences, because for the first time in a long time I felt something, and nothing was going to make me let that go. I clung to him, and he clung back to me as his hand slid up the back of my shirt. I felt all of the heat coming from his hard, athletic body. At some point it was clear we both hurtled over the invisible line keeping us a part and had trampled into this new dangerous territory. And it was Sampson who reluctantly pulled away.
"We better go," He whispered in a husky tone, though his grip didn't cease.
"Yeah," I answered quietly. "Let's get back."
Apparating back to the ministry we went through security and walked back to our department in silence. I couldn't look at him, everytime I considered it my cheeks flushed and I remembered the feel of his lips touching mine. Once I reached my uncle's office I managed to regain my professionalism as Sampson informed him of our progress in the case.
"We've been chasing this suspect for months and we haven't gotten anywhere, good work Weasley, Sampson." My uncle nodded to both of us professionally.
I smiled at my uncle and then left when he dismissed us.
At the end of the day Sampson followed me into the elevator, and neither of us said a single word to each other, but our arms ever so lightly touched. It was like we formed this silent agreement to not talk about what had happened, but to keep going and if it happened again so be it. It wasn't something I planned, but I couldn't say I minded. This felt good, like being woken from a deep sleep.
---
Scorpius walked into the Malfoy manor with nothing but his wand in his right hand and a duffle bag over his left shoulder. Ironically, he returned to his childhood home, much as he left it. His parent's were expecting him, but he still wasn't sure what he expected from them. Their relationship had never really been solid, but it had gotten better when he got older.
His old room hadn't changed much, he noticed without disappointment or happiness. Scorpius dropped his bag by the beds edge and began to search the large house for his mother. After twenty minutes, he was shocked to find her in the kitchen.
"Mum? What are you doing in here?"
His mother snorted and shook her dark hair out of her face. "Well hello to you too Darling."
"No seriously mum, what are you doing?"
"Your father and I have taken a few cooking classes," Astoria Malfoy told her son as she started slicing the carrots for Scorpius's homecoming meal.
Scorpius felt like he was having an out of body experience. "You…and dad…went to a cooking class?"
"It's really not that far fetched."
"We've had servants for the past four centuries mum." Scorpius retorted as matter of factly.
Her hazel eyes narrowed on him. "Scorpius, don't toy with me. I wouldn't lie to you, now please hand me that soup spoon."
"Alright…but I'm going to need therapy after this." Scorpius joked dryly.
"Oh sod off Scorpius!" Her hand went to smack him, before pulling him into a nurturing hug. "How are you doing? They aren't working you too hard are they? I see some new scars."
Scorpius tugged up the collar of his shirt so his mother couldn't worry any longer about his work injuries. "I'm fine mum."
"You better be." She warned him before gesturing to the den. "You're father is in there."
He nodded and sat down on a stool next to her. "I'll go in, in a minute."
"Nervous about your first day of work?"
"No, not really." He admitted honestly. "I have already picked out a new flat, and I can move in there next week."
She frowned. "We aren't in rush for you to leave. Take all the time you need."
"Thanks mum," He smiled at her.
"Are you dating anyone?"
"No and I don't want that to change mum."
She raised her hands in perfect innocence. "I said nothing about changing that, I was merely curious."
"Well there's nothing."
His mother eyed him worriedly. "Have you kept in touch with Rose Weasley?"
Scorpius's jaw twitched and tightened. "No."
"Well, before you get to work I think you should. She works there too you know." Astoria, told him in her usual soft sophisticated voice. She moved and pushed Scorpius's hair out of his face like she did when he was a child. "And you know I think she's had a hard time since you two-"
His voice was suddenly rough as he moved away from her reach. "
She
broke up with
me
mum.
She left me
. Whatever happened to her after that is
her problem
."
Her dark eyes narrowed in surprise at her son's cold tone. "Well, maybe when you see her you'll change your mind."
Scorpius waited till she left to go heat the food to mutter under his breath, "Doubt it."
He was twenty-four years old, a grown man with priorities and a life of his own. The last thing he wanted was to see the woman who unceremoniously left him. The other night, he was lost in his memories, and trapped in missing her. Now that he was sober and back in his childhood home that had faded enough for the bitterness to take over. Knowing his mother would most likely bring the subject up again until he saw her side of things he decided to go see his father.
Rising he strolled into his father's study and took in the changes in not only his father's appearance, but the den as well. Here was the room where his father would punish him and tell him what a blemish he was to the Malfoy name. There were worst memories he had of this room and of his father, but once he graduated Hogwarts he made an effort to put those memories in the past where they belonged. His father never made it easy, but since he left for America he seemed to be trying. Draco Malfoy's hair was still as blonde as ever though it had receded an inch or two since graduation making his face looking even more pointed. He was in the middle of working on some kind of ministry paperwork.
Scorpius crossed his arms and leaned against the doorway with a smirk. "So I hear you know how to cook now."
His father glanced up in surprise and the expression of amusement replaced it quickly. "Your mother was complaining we don't do enough things together so I indulged her."
"You are aware she is the one making dinner and not Pixie right?"
"
Oh no
…" Draco Malfoy winced, "Well you will have to pretend you like whatever she makes you. I assure you we did not fair well in that class."
Scorpius snorted, "I thought Malfoy didn't get D's."
"I didn't," He revealed, "Your mother did."
"Then why aren't you in there?"
"Because I have far better things to do than worry about a chicken for three hours."
Scorpius chuckled at that, "Like?"
"Anything else really."
"You know I don't think mum would like to hear that."
Draco's eyes, which were precisely identical to his son's, narrowed, "Don't you say anything to her. I don't care if you are a big shot Auror now, I can still take you."
Years ago that would have been a legitimate, serious threat, but now it was just hysterical. His father was fifty-one years old, and wasn't in shape anymore whereas Scorpius at twenty-four had never been in better shape.
When they ate Scorpius felt weird. For his whole life tears, screaming and fights at the dinner table were normal, but now that he was grown up that was mostly subsided. Now he could look at his parent's without the biases of his youth and see them for who they really were. His mother actually was a radical choice for his father. Though she did come from impeccable upbringing she also had this whimsically unconventional spirit. Scorpius could see why his grandparent's had difficulty with her, being so rigid in tradition and he could also see why that was precisely why his father had fallen in love with her.
---
He was supposed to meet up with a Jade Wilkins to find out who his partner was and where he was assigned. After putting on his white button down shirt, his black pants and black belt, he tossed on his Auror robes. Before he could leave, his mother insisted on him eating the breakfast she made for him. Though he was irritated by the inconvenience he appeased her and sat for a few minutes. Always a stickler for being five minutes early for everything, he kissed his mother goodbye, grabbed his wand and his badge and left his house.
It was weird to be back, to really walk around people with the same origin and some the same upbringing as him. He saw many faces that he recognized as he went through the ministry. Some from school, some from the daily prophet articles he read when he was young. Eventually though he made it to the fifth floor and saw where he would be working for at least the next few years. It wasn't as cramped and as relaxed as the American Ministry, but he found he liked this better.
Stepping forward, he spoke with the receptionist who pointed him in the direction of the girl he was supposed to speak to. She shook his hand politely and proceeded to give him a tour of the office. It was all pretty basic stuff and nothing was that hard to grasp. But he stopped moving when he caught a flash of distinctive red hair.
Rose.
Then his eyes were pulled up to hers, and his whole body felt like he was drowning.
The lovely dark skinned girl that was helping him around doubled back to see what had stopped him. "Oh that's Rose, do you know her?"
"
What's she doing here
?" He demanded in a voice much rougher and callous then his own.
Jade blinked concernedly. "She works here."
No, this couldn't be happening, not here not now.
"Yes, I know she works in the Ministry, but what is she doing
here
, as in the Auror department."
"Because she works here Malfoy," James Potter informed him from the desk over.
Scorpius froze address him directly, "Excuse me?"
"My cousin Rose is an Auror too."
Jade cleared her throat, "I was just coming to find you James-"
"Well I've got it from here," James told her kindly before turning to Malfoy. He stuck his hand out, "I don't think we've ever officially met. I'm James Potter."
Then everything happened all at once. First Scorpius shook James's hand unsure of anything else that he could do. Then as James backed away to go get Scorpius's paperwork Rose Weasley stumbled over and ran right into him.
She opened her mouth to apologize, but once her deep blue eyes met his she stopped. Scorpius was in hell. His whole body literally felt like he was being dragged under water and systematically drowning. What cruel act of fate was this? He hated her, and never wished to see her again and so she was thrown right at him?!
Furious Scorpius zoned out as the lady that had given him a tour pulled Rose away from him. He was so angry and taken aback he was shaking. James came back oblivious to the whole situation, handed Scorpius his paperwork.
"Fill this out and that," He pointed to the empty desk. "Is your new desk."
Gulping down air felt like gulping down sand. Emptily he searched for something to distract himself from the horror of his life. Anything really would do so he asked the only question he could. "Who's my new partner?"
"Didn't they tell you?" James asked looking out of place, "
I am.
"
---
Authors Note:
THANK EVERYONE WHO REVIEWED!
I honestly was so happy to see I had 30 reviews for the first three chapters that I wrote this! THANK YOU! I want to also THANK YOU FOR READING!
The song in the summary is Jar of Hearts By: Christina Perri.
I hope all of you liked this chapter!
PLEASE REVIEW!