A/N: Hey everyone I know this is going to be a major change but I'm having issues validating the chapters due to mentions of child abuse....sorry hpff staff....So I'm starting from scratch don't hurt me :(
DISCLAIMER: JK Rowling owns ALLLLL minus my original characters. The Wizard of Oz is not mine but is a 1900 children's novel by L. Frank Baum, nor is the wonderful world in the wardrobe called Narnia! Or anything else I forgot to mention!!!
Chapter Image by ME!!!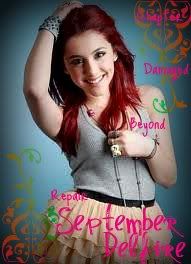 ***
"September Ariana Delfire…I'm going to kill you." My dad had said as he charged me from the opposite end of the dining room table.
I had stood my ground as he came after me but before he had reached me I clutched my hands into fists. Energy pouring out of my fingertips aiming itself at the man blundering his way toward me.
"September!!!" I heard a distant shout, knocking me from my thoughts as I wandered around the grounds of Hogwarts School of Witchcraft and Wizardry.
I was a fourth year at Hogwarts. The winter holidays were just around the corner. A lot has changed since the moment the magic bled from my fingers. My mother has divorced my father and moved out here in England. And we moved next to the Potter's a family friend of my brothers…well I guess me too…although our friendship has been a little rocky since the second year…
I turned, my magenta hair flying in the wind, whipping around my face. I didn't bother to push it back. Seeing August in the distance I stopped my trek around the Black Lake and sat in the snow by the beech tree. I looked out across the water my thoughts and memories still bustling around in my head.
"STOP!" I had screamed.
His body had shuddered to a stop his face still blistering red, his eyes darting around at his frozen figure.
That was the first time I had performed magic. I was seven years old.
August bounded up to me. My older brother. My protector. His blonde hair shinning in the sunlight acting like a beacon of hope. But I couldn't bring myself to look at him. I just continued to stare out at the Lake.
"We've been looking everywhere for you!" He said wheezing as he finally came up to me.
"Sorry." I mumbled, "I was just thinking about some stuff."
August stood up an uncharacteristic frown taking over his usually cheerful face. I looked up to see not only August but a quite rattled…and shivering, Rose Weasley.
Rose was absolutely gorgeous, even when she was huffing unattractively behind my brother. She was a simple and elegant beauty. Not that I'm in love with my best friend, no EWW THAT'S GROSS… But just to clarify things I don't love. It's a bad word, a curse beyond any curse. I had lost all hopes that it exists in my first years of life.
Looking at Rose, her copper hair tied up in a ponytail, loose stands escaping the prison and cascading down her face, you would think that my friends love me…but no…she was simply a concerned friend. Her hazel eyes watching me concern leaked out of her like a fountain, and I couldn't bring myself to look at either of their worried faces.
"WHAT IN THE NAME OF DUMBLEDORE ARE YOU WEARING!?" cried Rose indignantly.
"Um…" I looked down at my person and saw that I was wearing what I was supposed to…my Gryffindor robes and my uniform, a skirt and my collared white shirt with my tie. I even went warmer and put on my Gryffindor sweater.
"My uniform…" I gave her an odd look.
"Have you been out here the entire time!?" Said Rose, shivering and eyeing me as if I'd gone over the deep end.
I looked up at her calmly trying to disguising the pain underneath my eyes, "Yeah." My eyes were wide and falsely innocent.
"But it's free-eezing!" she said grasping her Gryffindor robes closer.
"Really?" I asked confused looking around at my surroundings, "I hadn't noticed."
"September! It's like fifty below zero out here! Merlin! You're going to get hypothermia!" Rose cried with yet another shiver and another glance over of my uniform.
August hadn't said anything. I knew that he knew what I was thinking about. That's why he had come searching for me to begin with. I was almost always alone when I wasn't with my friends. So not seeing me around isn't a surprise to anyone. But somehow, August just knew when I was upset. He wrapped his robes around my shoulder and began to lead me back to the castle. I went without argument, stealing one last look at the lake. I saw the giant tentacle of the giant squid, that the Marauders of the second generation had named Bob.
The Marauders generation two: James Potter, Erik Granger, Fred Weasley, and Scorpius Malfoy. The four of them couldn't get any crazier. And the thought of them made my lips curve upward ever so slightly. Especially the thought of James…but nothing was ever going to happen…he was popular and smart and Quidditch king…I had no chance.
My smile fell.
But, who would have thought that a Potter, a Weasley and a Granger could be friends with a Malfoy. But it happened, and they were the group that I associated myself with.
Well sort of. Rose was really good friends with all of them, seeing as they were all related. And since Rose and I had bonded at our first meeting at my house…that wasn't at all pleasant, I had learned to befriend them as well. I was surprised that Rose was still friends with me after four years, but here she is, still stuck with me and for that I was grateful.
So we trudged back into the castle, slowly making our way up to Gryffindor tower.
Rose had taken a hold of my arm skipping along the corridors humming a muggle song that I knew and loved…not to mention taught her. I smiled again, Oh Dorothy would be proud.
"We're off to see the Wizard the wonderful wizard of OZ because because because because BECAUSE!! Because of the wonderful things he does.."
"Do do do do do do!" I sung back the song the from the amazing muggle film the 'Wizard of OZ' created by L. Frank Baum, completely forgetting the memories that constantly haunted me. We giggled my face returning to its normal color and a smile spreading easily.
I always felt better around Rose. She had this gift that I couldn't even begin to comprehend. Her ease in making me smile was unfathomable. I felt August's tense shoulders relax as the giggles sounded from my lips.
Rose wrapped me in a hug, "Yay! Ember's back!" and she linked arms with me and I wrapped mine through August's. We began skipping down the corridors singing the Wizard of Oz song getting strange looks from first years. But I didn't care! We're Gryffindors! We do what we please!
Continuing to sing and skip we finally made it to the portrait of the Pink Lady, "Narnia!" the three of us shouted at her, "You may enter." She said her eyes sparkling as she swung open.
We looked in and saw the four Marauders playing a game of exploding snaps.
"Hey." Said Rose, skipping up to the table.
"Hey." Said James from the couch. He had a deep frown set on his tan skin. His jet- black hair mussed up and his broad shoulders hunched over the game. His golden hazel eyes narrowed in concentration, locked in mild frustration with Freddy.
Fred Weasley, the mastermind behind all things considered prank. His father, THE George Weasley and his twin, who died in the second war against Voldemort, were the founders of Weasley Wizard Wheezes (commonly referred to as WWW). And Freddy here was destined to continue his part in the works.
Rose started to giggle, but stopped as Freddy shot her a glare worthy of his grandmother, Grammy Weasley. Rose's lips snapped shut, but her eyes continued to dance in the firelight.
I had chosen my seat on the couch across from James and next to Al, James's little brother.
Al was in my year, he looked a lot like his dad, Harry Potter…that's right Harry flippin' Potter! It has been four years and I still couldn't wrap my head around it.
Al had the trademark Potter black messy hair, and the green eyes of his dads. He was extremely handsome and really sweet. Most people say that Al and I are meant to be, but I knew that it wasn't true.
You see, remember how I said that the Potter's and I didn't exactly see eye to eye. Well it was all because of this young bloke here…two years previous, during my second year Al had tried to kiss me over Christmas break. I know me kissing a Potter it's unheard of! But he tried…tried being the key word here…
We were talking about the snow and how in America I had rarely seen it. I remember having looked out of the window in awe. I turned to him in amazement, my mouth stretched into a rare smile. And in those two seconds of turning toward him, I noticed that Al's face was unnecessarily close to mine.
I had blushed and right as his lips were about to brush mine, I turned my head and jumped back. Surprise had flitted across his face. Then understanding, then hurt.
"Why?" he had asked me.
"I-I…"
"Hey what-" said James coming into the room, "Oh."
My eyes had widened and my face turned a bright red.
Al was watching me and when I looked over at him, devastation was the only look on his face quickly replaced by impassive cruelty.
"Your not my type anyway." Said Al snappishly. I had recoiled at his words and he left in a huff.
A tear had fallen down my cheek and James hadn't done anything but stare at that single tear.
"Sorry." He said leaving me alone in the room staring out at the snow that no longer brought the joy that it had done two seconds before.
The rest of the vacation Al had avoided me.
As soon as we got back to school he had hooked up with Valentina Winters, after he had rediscovered his manhood (that's what I had assumed he was doing it for) he felt fit to re-include me in conversation. The embarrassing winter holidays forgotten. But ever since then, I had never been able to trust Al like I had the year previous.
He was a different person, a selfish person and he was currently in a serious game of wizard chess with Hugo Weasley, Rose's little brother.
With a sigh I began to look around the room spotting second year, Lily Potter, tutoring my second year little brother October in the corner. Lily was a sweet girl small and adorable. Her wavy red hair fell gracefully down her back, her golden hazel eyes matching her eldest brothers perfectly. She had a fair face that was delicate and beautiful and she had my little brother October wrapped around her pinky finger.
October looked a lot like August. He had the same messy blonde hair but with my silver eyes. He had the same gentle face as June and July and the personality of my brother. Funny, annoying, and overprotective. But I didn't mind he was still small enough to be cute.
"September?" said James acknowledging me for the first time since entering the common room, "Where have you been? You had Rose and August running around the castle in panic."
I looked at him tempted to snap, but deciding against it I opted for a simple, "Walking around the Black Lake." Redirecting my gaze to the fire.
"What?" I heard six voices chorus. I looked around and saw that Al, Hugo, Freddy, Erik, Scorpius, and James staring at me in disbelief.
"It's like fifty below zero out there!" said James taking in my simple robes and school uniform, "How the bloody hell did you not die of cold out there!?"
"That's what I asked!" screamed Rose who was brushing snow off of her robes and onto Scorpius's bleach blonde hair.
"Hey!" cried Scorpius shaking the white flakes off. "Some space woman!"
"Don't be such a girl Scorp." Snapped Rose, crossing her arms and giving Malfoy her best, try-and-argue-with-me-malfoy look.
He backed away taking his seat and concentrated on his game never looking up to met Rose's eyes.
I rolled mine and Rose gave me a cocky yeah-I-just-did-that look.
"You cold?" asked James getting up and taking his robes off and draping them over me. He then continued by putting his arm around me in an attempt to warm me up.
I shrugged his arm off (blushing furiously by the way) and handed him back his warm…amazing smelling…soft…robes. Gahh why was it that I continued to make everything so awkward between us???
In case you haven't guessed, I really like James. WHAT!? Don't look at me like that I didn't say the "L" word!!! I'm just saying the bloke is sexy! He plays Quidditch so he's muscular, his hair is messy…in an extremely attractive way. And his eyes make me want to melt into his arms…What's a girl to do really? I can't help myself. James Sirius Potter is completely drool worthy.
ANYWAY…as I attempted to hide my blush I gave James his robe back.
"I'm actually going to go back up to the dorm." I said just realizing just HOW tired I was. I stifled a yawn and stretched mechanically, "Night."
"Night." Came the chorus of voices in return.
James just looked at me with his sexy golden eyes, "Goodnight September." He said his mouth twisting into a sexy smile. Urg why me!?
"Night." I squeaked.
I saw Al shoot me an annoyed look. I smiled apologetically to him and rushed off into the dorm.
Al was the only person who suspected…besides Rose…that I had a crush on James. So as much as I hate to admit it Al had leverage over me. And I didn't like it one bit.
***James POV***
Here I was trying to be nice to this girl and she shoves my niceness back in my face! That ungrateful little-
"James...stop looking pissed off." Sighed Rose taking September's vacated seat next to me.
"She just threw it back at me!" I said in mild astonishment, "Why is she the only girl immune to my charm?"
"No she isn't!" said Rose in disgust.
"Name one girl who isn't into me that I'm not related to and isn't September?" I said exasperated.
Rose was quiet for a moment.
"That's right." I yelled in triumph, "James Sirius Potter is completely drool worthy!"
"Except when it comes to September." Said Al in cockily.
I shot him a look and spat, "Oi drop it Al! Just because she rejected you-"
Al was on his feet in seconds, "Say that one more time." his voice dangerously low and his hand quivering by his wand.
I huffed in defeat, "Fine. But I don't get it? Why isn't she into me?"
"Maybe." Said Rose, "it's because you don't give her the time of day."
"What are you talking about!" I cried. "Of course I gave her the time of day!" She was September Delfire! The hottest FEMALE Gryffindor Quidditch player of the team! Minus Rose but I can't think that…it's just weird. She has this bright unnaturally natural magenta hair and these piercing silver eyes. She was drop dead gorgeous. And when she got angry and pissy she was fucking HOT.
But I've also seen her at her worst.
The first time I met her was when our family had gone to visit Aunt Hermione's brother Derek, and his family. Which meant spending an entire summer in America with Erik! It was supposed to be wicked awesome.
The first thing that we had scheduled when we arrived was a girl's eleventh birthday, later to realize that it was September. From the moment I saw her I was completely captured by this uniquely gorgeous girl.
But something about her was off. When I had started to talk to her she was so innocent, so naïve so…
empty
. She swiped her hand across her face getting the hair out of her eyes when I first saw it. I giant bruise the size of a baseball was on her cheek. She didn't notice my eyes trained on her but in that moment something in me clicked, and I knew she was strong.
When we sat down to dinner a man that she referred too as her dad was none to nice. And long story short…it wasn't a pleasant birthday evening. But then she had gotten her letter. But even now she didn't seem…
happy
just still kind of empty.
Rose rolled her eyes at me, "Sure James." I wanted to object but she shot me a don't-you-dare-argue-with-me look.
She got up running her delicate fingers through her copper hair. "I'm going to see if she's ok. Night boys." She winked at Scorpius, who earned quite a few not so friendly looks from the rest of her family.
When she was gone I redirected my attention to the exploding snaps game in front of me. But my head wasn't all there. I continued to think about
Her
. Of every girl I had dated she was the one I couldn't stop thinking about…and I hadn't even
dated
her! Urg this is so confusing.
Freddy and Scorpius soon gave up knowing that Erik and I were boss at this game, even when my head wasn't completely there, and retreated to their dorms. Erik and I stayed and chatted for a while about the upcoming hols, but even he trudged his way up the stairs to our dorm.
I still wasn't in the mood so I crossed my arms staring at the fire. I had noticed that the only person left was my brother.
"You going up?" I asked him.
"Why do you like her so much?" he asked scathingly, "She doesn't feel the same way you know."
I shot him a look but his eyes were trained on a book in front of him…nerd, "I don't like her." I shot him a nasty look.
He looked up and returned my glare, "Give up James!" he practically yelled at me, "She's not worth it!" and he snapped his book shut and stormed up the stairs.
Geez what got his knickers in a twist.
After a few hours of staring into the fire I had decided it was time to go up when I heard footsteps coming down the stairs.
I looked up at saw September in a red slip covered carelessly by her Hogwarts robe. Her magenta hair pulled hastily up into a bun her feet covered by soft pink slippers.
She looked over and seeing me her face turned bright red and she turned on her heel ready to flee up the stairs.
"Wait!" I called getting up and striding toward her. And by some miracle she didn't move. Her small hand clutching at her robe in a poor attempt to hide her nightdress.
"Hi." I said in the awkward silence.
"Hi." She said her eyes wide, she was frozen like a deer stuck in headlights.
"Um…I was about to go up if you want to stay and sit."
She didn't say anything but continued to stare. Her silver eyes shocked and her mouth opened slightly…it was all very…sensual. I gulped trying to control my composure.
She continued to look at me but closed her mouth. Her eyes turning toward the fire.
"Do you mind?" she said quietly, her hand still on the railway up to her dorm as if debating to go running.
I shook my head and stepped out of her way. She slowly released her grip on the railing and stepped cautiously past me.
I wanted to laugh at the pure comicalness of it all. She didn't take her wide silver eyes off of me as she carefully picked her way toward the couch.
She sat with a plop and finally turned her empty stare toward the fire. I think she must have expected me to run up the stairs to my dorm and hide under my blankets like a coward because as I plopped next to her, she jumped her eyes regaining a shocked stare.
I smiled but didn't say anything as I turned my attention to the dying flames. After a minute I quickly glanced over and saw that she was facing the fire as well. Her eyes looked sad and empty.
I wanted to wrap her in a hug. She seemed so alone. In the past four years that I've known her she has always seemed so confident, so calm and strong and brave. But I knew better. I watched her.
I know creepy but come on the girl is gorgeous don't judge.
Whenever she felt that Rose or August, or anyone for that matter, wasn't looking, her face fell. And she looked so upset and so depressed. Her eyes falling away, making the striking silver bare and dull. But as soon as the attention was back on her, a smile flitted its way across her face. The dullness in her eyes vanished. Her composure showed no crack, no sign of weakness. She was as strong as ever.
And I didn't get it.
"Why'd you come back down?" I asked before I could stop myself.
Her face looked back toward me. Her eyes adopting the brightness that I knew to be forced, "Couldn't sleep." She shrugged.
I laughed without humor, "Can you ever?" I asked regretting the jab as soon as it left my mouth.
Her face turned down into a grimace, "What's that supposed to mean?"
I backtracked, "Just that you never seem to sleep."
"And you do?" she countered.
"Well yeah!" I said rolling my eyes, "I mean
I
don't have insomnia."
"And what exactly are you saying?" her voice coated deeply in venom, "That I do?"
"No!" I said my eyes wide. Why brain!? Stop giving me stupid comments! Help me for once will you? "Just that whenever I'm going up to bed I usually see you coming down from your dorm."
"When have you seen me come down?!" her voice was full of unnecessary fury, "You spying on me Potter?" she spat my name in venom.
"All you Potter boys," she continued, "think that just because you're the son of Harry flippin' Potter you can get your hands on any girl you fucking want! Well I'm not one of them!" she was shouting at me, "Good night!" and she got up and marched up to her dorm leaving me alone again it the common room.
My hand went reflexively to my forehead, SMACK…why brain why?
A/N: I know this is really different but I'm proud of it. There's a little more humor to it and some fun moments. You're introduced to the characters faster. But September is still a mystery, which makes me sad. But hopefully as I try and figure out what I'm doing with this story you'll learn more about her. So Hope you enjoyed it!!
FEED THE SHINY SILVER BOX BENEATH ME I'LL GIVE YOU COOKIES!!!! I BEG YOU PLEASE!!!