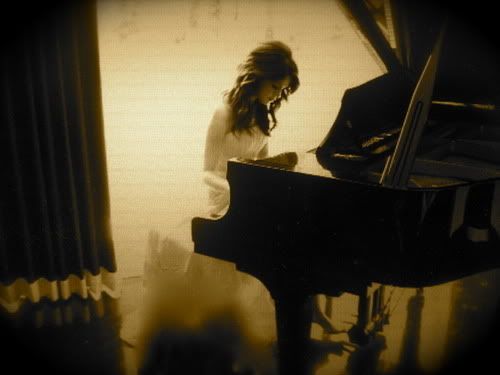 "Lily," she heard a voice whisper, "Lily, wake up."
Her eyes fluttered open. James with his lopsided glasses and distraught hair was smiling his crooked grin down on her. It was a strained grin, the one he wore when he didn't want to tell her something.
He was fully dressed, wearing not his work clothes, but a traveling coat.
Lily sighed, the air lifting a rusty lock. "It's time, isn't it?" She had prepared herself for this moment for eleven months. This was moment where she, her husband, and little Harry would run.
"Yeah," he said sadly, extending his arm to help her up, "I packed everything we need and all of Harry's things."
"Did Dumbledore owl?" Lily asked, rubbing her eyes before taking off her nightgown.
"Yes," James said, "He gave me the location, who to trust there, what time to get there, everything."
Lily pulled on her favorite deep purple traveling cloak.
She crossed the room to the door and gave the bedroom one last look. It was a large room with pure white walls and light wood floors. A white canopy bed was matched by the sheer curtains and white furniture.
James, who had gone ahead of her, emerged from Harry's room with their son in his arms. Harry smiled his innocent little smile that she loved so much. Poor Harry, he didn't deserve this, he didn't deserve to be tracked down- hunted by the devil.
Lily closed her eyes and prepared for their new life. They would be leaving the safe house and going to the prescribed destination chosen for them by Dumbledore.
*
It was a cottage at the edge of a small town, Godric's Hallow. It was small, homely. Lily loved it immediately, as soon as she laid eyes on it.
She opened the rusted gate, dispersing the fallen leaves that had built up next to it. They had fallen from two large oak trees that sat on either side of a windy path to the front door.
"There's a swing in the backyard," James told her, "And a piano inside, maybe you can teach Harry someday." Lily grinned.
"You know," Lily said, "I could get used to life here."
"Are you sure?" James asked, grinning with relief, "You know, you're kind of a city girl, with your extensive shoe collection and your makeup." Lily turned around and laid her eyes severely on him.
"No, no," Lily said, bending her knees up and down in excitment, "I can definitely live here." James smiled endearingly.
Lily turned and went to the front door. The house smelled of firewood and fall air. The foyer was painted a burnt orange, a large mirror and a small table sat against the wall.
"Where's the piano?" Lily asked James.
"Oh, c'mon, don't you want to explore the house a little before you christen it, so to speak?" James asked, the Marauder in him taking over making him feel the urge to explore his new surroundings.
"No," she responded shortly. She turned abruptly and walked into the next room. It was a teal blue with a cream couch and a black rug and drapes. A large bookshelf sat opposite of the couch with a chair next to it perfect for curling up and reading. Off the sitting room was a kitchen.
Through a pair of double doors was the room Lily had been searching for. A creamy wall served as the background for a large, black, baby grand piano. Black curtains with gold lining reached all the way to the glossy black floor.
"Perfect, huh?" James asked, "Aren't I the best?"
"You asked Dumbledore, didn't you?" Lily said, placing her hands on her hip and smiling broadly.
"My son needs a place to learn, doesn't he?" James said.
"You
are
the best!" Lily said before kissing her husband.
"Disgusting!" came a familiar voice. Sirius Black stood in the doorway with a bottle of champagne and a book.
"Padfoot!" Lily exclaimed, throwing her arms around Sirius' neck and kissing his cheek. Sirius had been on a mission for the Order for a month in Asia. Lily broke away from his embrace and frowned, "How'd you get in here?"
"I'm a Marauder!" Sirius exclaimed, "I can get in anywhere!"
"
And
Dumbledore gave you the password," James said quietly, smirking at Sirius.
"Yep, me, Remus, and Peter all know the password," said Sirius, "That means, James will be waking up some day to find a very hilarious prank has been pulled on him."
"Great," groaned Lily.
"So, you were going to play?" Sirius said, sitting down on a sleek black sofa that faced the piano.
"Oh, is our Lily going to play?" came another familiar voice.
"Oh, for God's sake!" Lily exclaimed as Remus walked in, carrying a casserole. He sat down next to Sirius, who was playing with Harry on his lap.
Lily scoffed at the three boys sitting on the couch, looking up expectantly at her. "You have got to be kidding me," Lily muttered. She placed her hand on her hips.
"Oh, Lily," Remus said, "Play the one where it's all like fast then it's all like slow…" Lily raised his eyebrows and rolled her eyes.
"KNOCK! KNOCK!" came a third familiar voice. Sicil Flenla appeared in the doorway with a large box wrapped in blue paper with a white bow on top.
"Really?" Lily exclaimed.
"Dumbledore gave me the password," Sicil explained, sitting down next to James on the sofa, "I brought you a housewarming gift. Are you going to play?"
"Do I have a choice?"
"No!" the four shouted as one. Lily smiled and sat down.
She played and all the feelings of fear were washed away. She started with the song she thought Remus had described and slowly progressed to the songs they all knew.
"Bye, bye, Ms. American Pie!"
they all sang loudly and out of tune. Lily couldn't sing because she was laughing so hard. She couldn't help but think that this was exactly how she wanted Harry to grow up, surrounded by these people (and Peter who was away on a mission.)
Lily smiled and ran to her friends and hugged each of them.
"Look at Lily: Ms. Sentimental," Sirius chuckled.
"I love you guys!" Lily said, tearing up.
"We love you too," Sicil laughed.
Music, friends, James, and Harry: they were the only things Lily needed.