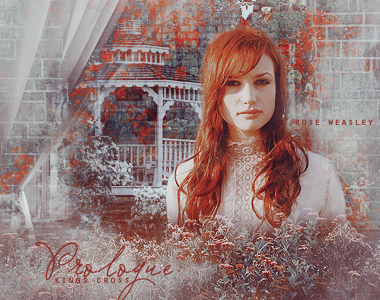 Chapter image by !batman @ TDA!
---
Prologue: King's Cross
"Don't get
too
friendly with him, though, Rosie," my father said.
The "him" in question was Scorpius Malfoy. Son of Draco Malfoy, my father's enemy from back in their Hogwarts days. I looked at the boy, and I didn't see anything wrong with him. He looked pleasant, although a touch constipated.
"Oh, Ron. The Malfoys aren't all bad. Narcissa saved Harry when it really counted," said Hermione Granger-Weasley. Yes, THAT Hermione Granger-Weasley. As if there were many others. And yes, I am the daughter of Hermione and Ron Weasley. Rose Weasley. No one except Dad is allowed to call me Rosie.
I broke into a chatter with Albus – Al for short – who is the second son of Uncle Harry (yes, THAT Harry. As in Harry Potter), while the adults debated how much of the Death-Eater-evilness gene would carry. Al was also going into his first year at Hogwarts, so we were discussing which houses we would be in. We agreed that, since The Battle of Hogwarts, none of the houses were bad. Our parents had told us that all of the Slytherins used to be evil, and "the spawn of Death Eaters" (to put it in Dad's terms), but now they were – hopefully – nicer.
"You kids have to go! Get on the train!" yelled Aunt Ginny, panicking at the time.
I ran to Mum, gave her a kiss, hugged Dad, and then hopped on the train with my brood of siblings and cousins. Victorie went up to the front of the train to sit with her Seventh Year friends. I saw Dominique behind her, who raised her eyebrows at me in greeting. I replied the same way. We taught ourselves how to talk to each other quietly after we would have screaming competitions, and Fleur and Mum would make us stop talking. Dom was also going to be a first year.
James, Al's older brother, ran to sit with his Second Year friends. Al, Dom and I moved to get a compartment for the three of us. We passed by a compartment with Molly and Lucy inside. They're Uncle Percy and Aunt Audrey's daughters, and rank just below mud on how interesting they are.
We all sat in a compartment and started up our family chatter. Being a Weasley meant that we spent so much time together, and understood what we were all trying to say. I was beginning to ask them how much they had studied their new books when we all heard a knocking at the door.
It was the blond boy from Platform 9 ¾. Scorpius. I noticed that his eyes were a dark shade of midnight blue. He mouthed, "Can I join you?"
I looked at my cousins, wondering what to do. Dad had said to stay away from him… But then again, it was Dad. And Mum had said that they weren't all a bad sort.
We opened the door, and let him in.
---
A/N: Hi! This is my first story that I'm posting here. Review please! Is it good, is it bad, do I need to keep/get a day job? I know its kind of slow so far, but this is just the prologue. The title (Midnight Blue, the color of Scorpius' eyes) will factor in. Any errors, I'm sorry. It's 2 AM.
Edit 1/6/11: Chapter images! I promise, I will be putting up a new chapter soon. I just have a couple of one-shots to get out.