You are viewing a story from harrypotterfanfiction.com
---
View Online

Format: Novella
Chapters: 2
Word Count: 5,319
Status: WIP

Rating: Mature
Warnings: Mild Language, Strong Violence, Sensitive Topic/Issue/Theme

Genres: Action/Adventure, Angst
Characters: Harry, McGonagall, Snape, Seamus, Neville, Luna, Draco, Ginny
Pairings: Harry/Ginny, Draco/Luna

First Published: 06/26/2010
Last Chapter: 08/12/2010
Last Updated: 08/12/2010

Summary:


The dark side of magic has taken over Hogwarts...but Dumbledore's Army will not rest.





Perfect, amazing and epically awesome banner by ClearPlastic at TDA - Thank you!!





---
---
Authors note: This will be a story about what happened at Hogwarts and with Dumbledore's Army during Harry Potter and the Deathly Hallows. I will make the timelines, etc, canon, however some parts will be AU. I hope you enjoy it!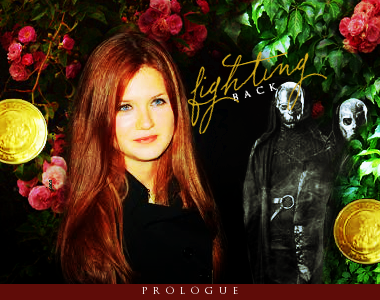 Image by Midnight_Witch at TDA



Everywhere was chaos. Death Eaters marched throughout the screaming crowd, roughly turning people around to peer into their faces, before throwing them to the ground in disgust. Calls of protego were heard all around, as family members tried to find each other and tried to escape the Death Eaters at the same time.

"Sonorous," a deep voice called out, magically magnified. "Be still. You will not be hurt; we do not want to spill magical blood. The Weasleys are a pure blood family; we are not going to destroy you. Be still."

Almost everyone settled down, except for Lupin and Tonks. After a few moments of a fierce duel with three or four Death Eaters, they clasped hand and managed to disapparate. The Death Eaters who had been fighting them turned to the one who had been talking, who seemed to be their leader.

"Let the werewolf and the former Black go," he said in his echoing voice, a clear expression of disgust on his boldly bare face. "We came for Potter. Once we establish who's who they can all go, we just need Potter."

Ginny glanced frantically around, trying to see past her brothers, who had formed a guard around her. People were standing with their hands up, like they were common criminals. The unmasked Death Eaters walked amongst them, searching for the same person Ginny was. Seas of red haired witches and wizards swam before Ginny's eyes, and she couldn't remember what Harry had looked like with the polyjuice potion. Where was Harry?

"Cast revelio on everybody," the head Death Eater said to the cloaked figures at his command, pushing roughly through the crowd. "He could be using polyjuice potion. You three, search the house."

The Death Eaters hurried to obey his orders. Many of the elder witches cried out in horror as their true hair colours were revealed. Arthur Weasley went into the house after the Death Eaters, calling after them that Ron was sick with spattergroit.

"My son, he's upstairs, he has spattergroit, you can see for yourself..."

Eventually, the Death Eaters concluded that Harry was not there. After many threats and searching glares into faces, their higher orders came into effect, though they made it quite clear they did not want to follow them, that they would love an excuse to start killing. No one was stupid enough to speak, or even meet the Death Eaters eyes, and eventually, the cloaked Dark Wizards let the guests go home.

"We'll be keeping an eye on you," one of them said to the Weasley family. "If he comes back here, we'll know it."

The Death Eaters disapparated, leaving the Weasleys slightly shell shocked. The twins and Charlie went to work setting up new protective charms whilst Arthur accompanied Bill and Fleur to their new home. Molly pottered about, obviously panicking, until George helpfully suggested she might clear up the destroyed wedding stuff and make up a pot of tea. Molly went to work right away, relieved at having a job to do.

Ginny helped Molly clear up wordlessly. She felt numb, and couldn't fret like Molly or be grim faced like her brothers. She pictured Harry, Ron and Hermione together, wondering where on earth they had got to, hoping they were safe.

A few moments later Arthur arrived home with good news that Fleur and Bill were safe in their cottage, and Molly announced that the tea was ready.

The Weasley family sat around their dining table, feeling shell shocked at what had happened. Eventually, George spoke.

"How did they get away?"

"I saw Hermione with Harry. They must have disapparated," Arthur said gravely. "I'll try sending a patronus to them to warn them against coming back."

"They won't come back," Ginny whispered. "They were leaving anyway."

The others turned to look at her. Sighing, she went upstairs to her room, wanting to be alone for a while. Fred stood to go after her, but George put a hand on his arm, and shook his head slightly.

Half an hour later, Ginny sat on her bed in her pyjamas, curling her legs up underneath her. She hugged a pillow to her chest tightly, wishing it were Harry in her arms. Someone knocked on her door, and after a moment, Ginny answered.

"Come in," she said quietly. It was her mother.

"The twins have gone to their flat," Molly said in a low tone, clearly terrified for them. "Your other brothers have gone to Bill and Fleur's new house to make sure their defences are holding."

Ginny nodded.

"Honey, he's going to be fine. Ron'll look after him," Molly giggled humourlessly. "Try not to worry."

"I don't think I'll ever see him again," Ginny whispered, a tear falling down her cheek. After a moment's hesitation despairing for her son, who perhaps would never come back as well, Molly wiped the tear away.

"Now, sweetheart, you mustn't think like that," Molly smiled weakly, trying to convince herself as well as Ginny. "Hey, soon you'll be back at Hogwarts with your friends. That'll take your mind of things."

"Yeah," Ginny nodded, although she didn't understand how going to the place where she had spent the majority of her time with Harry could possibly take her mind of things.

"Try to get some sleep, love," Molly whispered, kissing her daughter on the top of the head.

"Night, mum."

Ginny didn't turn her light off right away. Instead she looked through her Hogwarts things, her uniform, and books. An idea came to her, and she ran over to her dresser. Nestled in scrunched parchment inside a wooden box, a dull gold coin sat. She picked it up now, and, after a few failed attempts, sent out a message, wondering if any of them still had their coins, if anyone would receive the message at all.

Dumbledore's Army regroup, in? -G

She fell asleep with the coin in her hand, and was woken as it warmed slightly between her fingers. She hurriedly lit a Lumos charm – she'd always been able to get away with small charms at home, as the Ministry wouldn't know who specifically had cast them. She held the coin in the light turning it in her fingers to see the words appearing around the edge.

See you on the train, DA meeting, - N.



---
---
Chapter two, Defiant, take place from the 1st of August to the 1st of September, 1997.



In the days, and weeks, following the events of the wedding Ginny had to find ways to kill time or the time would have killed her. She busied herself in the newly protected garden, de-gnoming, weeding and planting crops, scrubbing out the old rusted cauldrons until they shone. She devoured the prophet and the quibbler every day, though in secret, late into the night by wand light, as though her desire to search hungrily for news of Harry was a fault she wanted to hide from everyone, a weakness. She longed for the first of September, to start the rebellion which she could feel burning inside her like a fire.

There was no news until the twenty – second of August, when she breakfasted with her parents and Arthur gasped in shock as he was reading the paper. Molly cast a look in Ginny's direction and placed a hand on her husband's arm, silently warning him not to vocalise the headline if it was too shocking – she did not underestimate the terrible things the usurped Ministry were capable of.

"What is this world we live in?" He asked quietly to no-one in particular, spreading the paper down on the table so the two most important women in his life could read it.

"Muggle-borns wanted for interrogation," Molly read out loud. "What on Earth...?"

"Muggle-borns are to be registered and interrogated to determine if they have any magical blood in them at all," Arthur read grimly. "If they are unable to provide proof of Magical heritage they will be forbidden from magical education and their undeserved wands will be snapped in two."

"It's disgusting," Molly said, shaking her head and taking a long draught from her tea. "They can't do that."

"They can and they will," Arthur said, running his fingers over the list of names. "Some of these people are Ministry officials, this is simply absurd."

"Hermione Granger!" Ginny called out, stabbing her finger down on the familiar name she read upside down. "Maybe if she goes to the Ministry..."

"She won't go if she has half a brain, none of them will," Arthur rolled up the paper and set it down firmly. "I'd run."

Molly nodded.

"Couldn't you fake magical ancestors?" Ginny asked, her heart beating wildly at the image in her head of Hermione walking up to a teller's desk in the Ministry of Magic, of her having her wand torn from her hands.

"I don't think so," Arthur said, shaking his head. "Even if you could, the Ministry would assume you were faking. The punishment would be worse than losing your wand."

"Arthur!" Molly breathed, standing up and taking the paper away. "No more talk of this."

"We need to talk about it; we need to think of some sort of solution!" Ginny cried, standing to her feet.

"We need to keep ourselves safe!" Molly shouted, spinning around to face her only daughter. "If I can't trust you to not be stupid, to keep yourself out of trouble, you won't be going to Hogwarts and that's that!"

"There was an article near the front page that Hogwarts is now compulsory," Arthur mumbled. "Parents will be imprisoned if their children don't go."

Molly made an odd sort of noise between a grunt and a snort and scrunched the Prophet in her hand into a little ball.

"Well, you don't need to worry, I'm definitely going back to Hogwarts," Ginny said. Molly turned to look at her slowly.

"And what do you mean by that, young lady?"

"Nothing! I just want to get my NEWT's that's all. Sixth year is kind of an integral part of that."

"You will keep yourself out of trouble, alright?" Molly bent close to Ginny so they were almost nose to nose. "I know you. I don't care if they yell at you, scream in your face, threaten you...you'll stay quiet, keep your nose down and come out of sixth year alive."

"Molly don't you think you're being a little dramatic?" Arthur asked. "It won't be that bad at Hogwarts, Minerva and Pamona are still going to be there. Hagrid'll be there."

"Oh, Hagrid will be there? Oh, fabulous, everything will just be fine then, won't it?" Molly gave Arthur a playful slap on the back of the head. "Don't be ridiculous."

"I've got to go," Ginny said, standing up. "I'm visiting Fred and George today, remember?"

"Do you think it's too late for the twins to go back and get their NEWTs?" Molly suddenly asked Arthur.

"I think so, dear," he smiled at her, feeling bittersweet. It was a funny thought, sending the twins back to school. But he knew why Molly would want them there.

Ginny spent the day at Fred and George's apartment, watching them pack up the shop sadly, keeping quiet and avoiding the subject of Hogwarts. She felt slightly guilty that she was planning on directly disobeying her mother's orders, but hated feeling completely useless as Harry fought against Voldemort. She had to contribute something, and the DA seemed like a good way to do it.

"So I figure, we keep all this at mums, and work to secretly get it to order members, to anyone that fights..." Fred said, gesturing to the boxes around the apartment, some of them were quivering slightly.

"Yeah," said George. "We'll be like, underground suppliers of magical goods. Especially to ones that have lost their wands, we can provide them with protection."

"Can I have some?" Ginny asked suddenly. Fred and George glanced up in shock, as though they had forgotten she was there. Ginny continued.

"Some Peruvian darkness powder, maybe a couple of skiving snack boxes, and definitely a few shield hats," she shrugged.

"No point," Fred said. "They'd be confiscated as soon as you got to Hogwarts."

"Oh," Ginny sighed. "Right. Isn't there anyway we could hide them?"

"What do you need them for, anyway?"

"Promise you won't tell mum?"

"But of course," the twins said in unison, smiling at their little sister.

"Dumbledore's Army is reforming. And I think we'll need supplies once the Dark Side takes over Hogwarts."

"Well, officially, I'd say Ginny, darling, stay out of trouble. Do what they tell you and work hard!" Fred said in a fake impersonation of what seemed to be Percy. "Unofficially, I say you can have all the supplies you need, we'll personally deliver them if we can figure out how to get into Hogwarts, we're quite worried that....well, that Hogwarts will be a lot worse then what everybody expects."

"Oh, thank you, thank you!" Ginny called, leaping up to hug each of the twins in turn. "Best brothers ever!"

"Best sister ever!" George smiled. "Nothing to do with the only sister ever thing."

"Now we have to move back home," Fred sighed, whilst George made a mock-horrified expression. "Help us carry these, will you?"

They were all under a feather-light weight charm, Ginny managed to carry six boxes at once. The three flooed back home. Fred and George were strangely quiet – being forced to leave their home and shut down their shop for the sake of their own safety seemed like such a petty reason. They almost felt guilty, like they were giving up, or admitting defeat.



September first rolled around quickly, as though time itself was trying to get the DA reunited as soon as possible. As Ginny walked towards the platform with her parents, she thought of when she had been ten years old and had seen Harry there for the first time. She'd only really seen her brothers before and hadn't known other boys. She remembered how her heart had gone wild upon seeing Harry as she swore in her mind that he was the absolute nicest looking boy she'd seen ever, and she would marry him. Ginny shook her head to clear out the memories – she didn't need to be thinking of Harry right now.

"One child," Mrs Weasley kept repeating. "Only one child going to Hogwarts, never thought I'd see the day."

"What about Bill?" Ginny asked as they approached the barrier wall. "When he went, wasn't it one child going to Hogwarts?'

"Oh, well of course Bill," Molly answered exasperatedly. "But we did have a lot of young children with us when we brought him here. We basically threw him at the wall between platforms nine and ten, turned around again and went home."

"You made him go by himself?"

"Well, Bill could handle it, being the eldest he was very confident, very mature for his age," Molly said. Arthur went through the barrier first, and then Molly went in with Ginny. Ginny understood why they were staying so close to her and being so protective – they didn't know exactly what would be awaiting them on the other side. Arthur nodded, indicating it was safe, and he and Molly went back through after quick hugs to Ginny. They had to get to a secret Order meeting that they thought Ginny didn't know about.

Ginny walked out onto the crowded platform for what felt like the hundredth time in her life, however it was noticeably less crowded than usual, and everyone seemed in a sombre, quiet mood. It was as if all the magic and fun of meeting with friends and chatting excitedly as the steam poured from the Hogwarts Express with the promise of a new school year had been replaced with fear, despair and confusion. She saw Neville (he was a foot taller than when she had last laid eyes on him) across the small sea of wizards and witches, and nodded to him. He nodded back.

"Dean's not here," an Irish accented, rough voice said quietly beside Ginny. She turned to see Seamus, looking lost without his tall artistic friend. His eyes though, were murderous. "Neville flashed the galleon at me from across the platform, so I checked mine and saw about the, well, you know. I wasn't interested, I must admit, wanted to stay out of trouble for me mam's sake."

He took a deep breath, steadying himself.

"But Dean's not here. Knew he wouldn't be of course, but I still looked for him like an idiot," he shook his head. "I can't believe what's happened. He's had to run to save his own skin. Hogwarts ain't safe anymore and he knows it. No place is safe anymore."

"Some places are," a low voice said behind them. It was Neville. "I've been spreading the message. It'll be like before, we'll go to the Room, train ourselves."

"How many of us are still here though?" Seamus raised his eyebrows at Neville. "Dean's gone."

"Yeah, so are Harry, Ron and Hermione," Neville replied. "But maybe they're all together somewhere."

"We're going to do this without Harry?" Seamus asked, shocked by the news of Harry's absence at first, though as he thought about it, it definitely made sense for Harry to flee.

"We can do it, I'm sure," a sweet voice said. "Hello, Ginny. Had a nice summer? Sorry I had to leave the wedding party so early."

"Yeah – uh – I'm sorry too, Luna," Ginny smiled at Luna's casual air.

"Perhaps it would be nice if we got on the train and found a nice compartment," Luna smiled brightly, holding Ginny's hand and leading her towards the Hogwarts Express.

Seamus turned to Neville.

"So what's the plan here? I mean, with Harry gone, who takes charge of the DA?"

"I don't know," Neville answered. "Ginny I guess. Sort it all out on the train."

Seamus nodded. Now Neville looked doubtful.

"Seamus...do you think there'll be Death Eaters in Hogwarts? I'm kind of scared to go."

"I thought you were organising the DA again so we could kick some Death Eater backside?" Seamus clapped him on the shoulder. "It's just as safe as anywhere."

"Which means it's just as unsafe as anywhere," Neville grinned grimly. "I mean, look around, people aren't getting on the train, they're sticking with their families, like they'll never see them again."

It was true. Usually the train would be packed by now and ready to go. The red steam engine was billowing smoke but wasn't whistling as a hurry-up reminder like it usually did. It was if the train was biding it's time, allowing the students to say a proper good-bye.

"Well, me mam married a muggle, so she's taken for the hills," Seamus quipped, trying to make light of the awful situation by smiling and shrugging. "So I got nobody to say goodbye to."

"Nan's off doing something or other," Neville smiled, too. "Should we get on the train, then?"

They walked up to the shining red train, talking in low voices about where the other former members of the DA were. Some had finished school, in the case of Cho Chang. Others had already fled, like Dean. Still others were around on the platform somewhere or on the train already. Seamus and Neville agreed that Seamus would round everyone up, as it would be too suspicious for both of them to wander around together. They couldn't see any Death Eaters, but there was an unsaid understanding between them that there would be Death Eaters around somewhere.

Neville joined Ginny and Luna in the compartment they had selected near the end of the train. Others filtered in; Padma and Parvati, Michael and Terry, the Creevey brothers. Hannah Abbott and Susan Bones. Justin Finch-Fletchley looked about the compartment as though searching for Harry, but none of the others seemed to notice he wasn't there, or else, they weren't surprised he wasn't. However, some were surprised to see Justin. He was muggle born, after all. He hastily explained that he had some wizard relatives and he was on a sort of probation, in which if he didn't show aptitude in class he would be expelled.

Lavender Brown entered the compartment with Seamus, and Seamus slid the door shut behind them. The compartment was very crowded; Lavender crouched on the floor next to Colin.

"We've just seen Draco Malfoy," she said. "Looked as though his mother wouldn't ever let him go. He didn't even look embarrassed."

"Draco?" Ginny asked. "He's back? Are you serious?"

"Yeah, why wouldn't he be?" Lavender shrugged.

Seamus was the last to sit down, squeezing himself between Nigel and Justin, and as soon as he did, he took it upon himself to begin the meeting.

"So is Ginny our new leader then?"

"No," Ginny said immediately, surprising herself with her quick answer. "I don't want to be. How about Neville?"

"Oh, I don't know about that," Neville's voice was dripping with self doubt.

"Of course you can do it Neville," Luna smiled warmly. The other ten nodded, and only some a bit reluctantly.

"Well, okay, then," Neville said slowly, a small fire in his eyes as he thought of avenging his parents' cruel fate. "First things first, everyone get a galleon coin and put the charm on it. We'll meet tomorrow in the Room of Requirement after classes and make a list of everyone in the new Dumbledore's Army. I think our first major task should be to round up all the old members, and contact those that aren't at Hogwarts anymore so we have contacts in the outside world."

The compartment was full of nodding heads; everyone was excited by the prospect of Dumbledore's Army reforming, and Neville spoke with a voice of authority that was calming and inspiring.

"I think we should promise to do whatever task we are assigned," Seamus said quietly. "I mean it, Neville, I'm in this for the long haul, and I want to...to make sure things are safe for people like Dean, and my dad."

"Absolutely," Luna said brightly, nodding. "Neville is our leader; we're going to be taking orders from him, happily."

"Yep," Ginny smiled at Neville. Neville looked quite panicked.

"Well, alright then guys, as soon as I think of orders to give I'll let you know."

Suddenly, the train started to slow down.

"Knew this would happen," Neville groaned, glancing toward the window. He could barely see out, there were so many people squeezed into the compartment. "It'll be Death Eaters searching for Harry. Quick, split up, go and sit in random compartments, it's too suspicious with us all here."

Ginny, Neville and Luna were left in the compartment. Luna turned to the other two.

"Perhaps you should act like you are a couple," she suggested. "In case they want to ask Ginny about Harry."

Neville put his arm around Ginny and she leaned on him, holding his hand. Luna nodded in satisfaction. A few seconds later, the door burst open, an unmasked Death Eater stood dramatically in the door way, not one of them recognised him.

"Ginny Weasley," he said in a deep voice, taking in how she was clearly with this other bloke. Ginny felt startled that he knew who she was. "Do you know where Harry Potter is?"

"Don't know, don't care," Ginny said, and then decided it was time to act. She burst into tears. "I asked him out, but he rejected me! At a funeral! He's just so horrible!"

"Oh, honey, it's alright," Neville said, taking her face in his hands and kissing her swiftly on the lips. "You've got me now."

"Yes," Ginny smiled. "I love you!"

"I love you, too."

"Urgh," the Death Eater sounded disgusted. "Well, luckily for you he'll be dead by nightfall."

He went to leave the compartment. Neville lifted both of his arms high in the air and shook two rude hand gestures towards the Death Eaters turned back. Luna stifled a giggle and did the same. The man, none the wiser, shut the door behind him, and a few minutes later the train began moving again.

The rest of the trip was quiet, the three changed into their robes and sat about nervously, all hoping Hogwarts would be the same, comforting place it had been before, all knowing in their hearts it wouldn't be.

"We've still got the Room," Neville said, his whisper sounding oddly loud in the long silence the three had been in.

"They did manage to figure out where we were in fourth year, though," Luna mused, before her eyes widened. "Fifth year for you! Odd how we call things differently in our minds, isn't it?"

"Yeah, I guess," Neville said off handed. "I think I can make it so they won't find us. They'll know where we are, of course, I mean, they're not stupid – well, not all of them. But we'll keep it a secret, the D.A. I mean, as long as possible, and then when they do find out, we'll just...require that they can't ever get into the Room."

"I'm sure we'll work something out," Ginny said, glancing over her shoulder to the window as the train slowed to a crawl, but of course she could only see her own reflection in the glass. She frowned at herself – she looked too sad.

The students trudged up to the castle, sticking together in groups, random Death Eaters seemingly popping out if the trees as though they were there to guard the castle. Ginny wondered for a wild second if Voldemort would be there. She pictured him teaching a Charms class and had an urge to laugh.

The Great Hall was beautiful as always, but seemed colder than before. The House ghosts were sombrely floating about the ceiling, as though they were in as much anticipation to find out who was now running the school as the student were. When everyone was seated, a wobbly-looking woman with a tight blonde bun came to the podium. She was wearing a long black dress with sleeves to the elbow, showing off her Dark Mark.

"Welcome back to Hogwarts!" She smiled at the crowd, her voice reminded Ginny unpleasantly of Delores Umbridge, though it was slightly huskier. "I'm Professor Alecto Carrow, and I'll be your muggle studies teacher this year! Muggle studies is a compulsory subject."

"What happened to Professor Burbage?" Seamus whispered. His voice was lost amongst the whispers in the hall which made it sound like a beehive. Neville shrugged at him.

"And today, I am here to present our new Headmaster, whom I'm sure will lead Hogwarts in the right direction!"

"But...it's McGonagall, isn't it?" Ginny whispered to Neville. "Why would she be so happy about that?"

"You don't think it's...you know who, do you?" Neville asked. Seamus' eyes widened in fear as he glanced around the room, whilst Ginny shook her head vehemently.

"I present to you, Severus Snape, Headmaster of Hogwarts School of Witchcraft and Wizardry!" She clapped a little, and the Slytherins joined her, hooting and pounding the table with their fists in appreciation of the news. Ginny and Neville felt relieved – Snape was only the second worse option for a Headmaster, and they were glad it wasn't the very worst.

"Thank you," Severus said in his drawl, as he approached the podium. "There will be several changes to the curriculum this year, and any disobedience or rebellion will be punished severely. There is to be no tomfoolery or idiocy."

McGonagall walked forward with the three legged stool and the sorting hat. Snape sort of nodded at it and stepped back. It opened its brim and began to sing in a much louder voice then usual.



'The Founders four all had their faults,

One must definitely admit,

However, Hogwarts was better off with them,

Then this new stinking pile of spit.

It makes me want to throw up,

Somebody get a bucket,

Let's all just let these intruders know

That they can blooming suck it!'

"Silencio," Snape snarled, standing over the Sorting Hat. Ginny was surprised he let it go on that long. "Take this hat to my office, I will burn it. Purebloods in Slytherin, everyone else, divide yourselves between the three remaining houses alphabetically. If this task is beyond you, go to Hufflepuff."

A young boy slid into the seat next to Seamus.

"I'm a Pureblood," he whispered in a Northern accent, glancing at the snarling Slytherins in fear. "But if anyone asks, I'm a half blood."

"I'm a half blood, but if anyone asks, I'm a pureblood," Seamus laughed, clapping the boy on the back.

"I'm a purple blood," Luna said dreamily from the bench behind them.

"Point taken," said Seamus, nodding and smiling over his shoulder at the Ravenclaw.

"You may eat," Snape said from the podium, and the empty plates on the tables were suddenly filled with food. Ginny could scarcely remember a time when the Feast had been quieter – no one talked; they just ate, silently, and glanced up at the Head Table every now and then. Ginny could see Minerva McGonagall's eyes sweeping over the crowd, obviously checking to see who was there. She met Ginny's stare, and raised her eyebrows. Ginny knew what she was asking and subtly shook her head before going back to her meal. No, she didn't know where Harry was, and no, he wasn't here.

Ginny suddenly lost her appetite. He wasn't here.

Eventually everyone left for bed, prefects leading them to their common rooms, though without the usual enthusiasm. Neville stayed in the common room long after everyone else had gone to bed – as a seventh year, he really wasn't expected to get to bed at a certain time. He looked into the fire, wondering about the upcoming year, and what exactly they would all have to go through now Snape was in charge. How many people could they get into the D.A.? He had a fleeting vision of the D.A. becoming a huge underground network, being just as integral to the cause as whatever Harry Potter was off doing in bringing about the downfall of Voldemort. He briefly imagined the small rebellious group becoming more powerful then the Order of the Phoenix, he saw, in his mind's eye, the names of the members of Dumbledore's Army written down in books, celebrated, honoured, awed.

"What are you doing Neville?" Ginny's tired voice made him jump slightly. She looked as though she hadn't slept. He supposed it would be strange for her, coming back to a Hogwarts without Harry in it.

"Writing a list of the DA members so far," he said. Ginny snatched it away and threw it into the fire.

"Didn't you learn when you let Sirius Black into the common room?" Ginny asked, saying 'Sirius Black' as though he was a villain. Of course, letting him in hadn't been a big deal, but the point still had to be made. "No good can come from writing lists, Neville!"

"Oh, sorry," he said. "I just wanted to get it organised. But I guess we can write the list in the Room of Requirement tomorrow afternoon during the meeting."

"Seems a long way away, doesn't it?"

"Yeah, it does."

"What are classes going to be like tomorrow?"

"I guess we'll just have to wait and find out," Neville said darkly, prodding the fire. Ginny sat at his feet, warming her hands on the miraculously still – roaring fire.

"Yeah, we'll have to wait and see," she repeated in a low voice.


---
http://www.harrypotterfanfiction.com